How To Easily Use & Manage Your Search Engines in Opera Browser
By Angsuman Chakraborty, Gaea News Network
Friday, November 10, 2006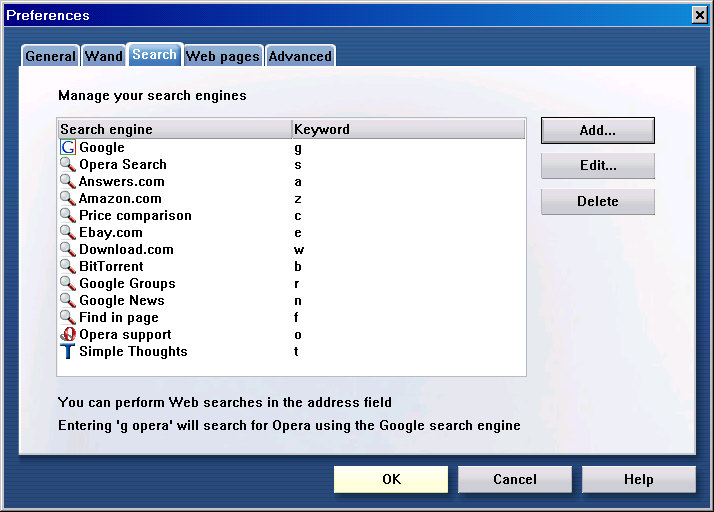 Opera Browser is the best in terms of search engine integration. It allows you to easily add your own search engines, access search engines by a single alphabet and finally set any search engine as the default. By default it comes with Google as the default search engine, but that can be easily changed.
Contents

How to manage your search engines in Opera
In Opera you can manage your search engines by going to Tools->Preferences and clicking on Search tab. Here you will find list of search engines which are available by default (see first diagram).
You can add / edit or even delete search engines to your liking by clicking on the corresponding buttons on your right. You will notice that each search engine has a shortcut keyword. You can change them by selecting the search engine and clicking edit button. More on how to use the keyword in the next paragraph.
How to search quickly in Opera


Beside each search engine you will see (optionally set) a single key which can be used as a shortcut to search using that engine. For example if you want to search for 'linux' in Bittorrent then you can simply enter 'b linux' in the space where you provide the url and hit enter (see diagram 2). This will search for 'linux' in Bittorrent and bring you the results. Alternatively you can type 'linux' in the search box on the right and choose Bittorrent engine from the combo.
Opera has the concept of default search engine. When you simply provide some words in the url textbox, instead of an url, Opera understands and performs a search using your default search engine. In the next section we will see how you can change your default search engine in Opera.
How to change your default search engine in Opera
The default search engine is by default Google. However you can easily change it by selecting another search engine, clicking on Edit and then choosing it as the default.
Please read the next part of the article and conclusion here.