How to Get Free WordPress.Com Account (for Firefox, Internet Explorer, Opera, Safari… Users)
By Angsuman Chakraborty, Gaea News Network
Sunday, October 23, 2005
WordPress.Com is a commercial venture from the authors of popular weblogging software - WordPress.
They provide free weblog to selected individuals based on God-knows-what criteria. On their website they ask you for some mysterious invitation code to be a wordpress.com blogger.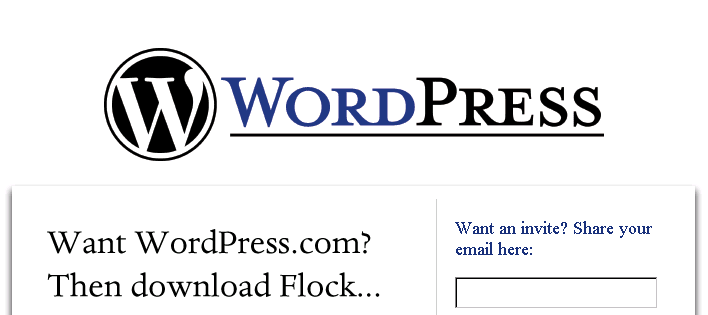 Recently however they opened up, possibly due to some marketing arrangement, and provides free Weblog account to Flock users.
Note: Flock is a new browser based on Mozilla code. More on it later.
So if you are a non-Flock browser user (like FireFox or Internet Explorer or Safari) then you can either download and install Flock for the sole purpose of getting an account or follow the steps below to get an account.
There is yet another option. You can share your email with them and hope sometime in next 100 years you will get an invite. I wouldn't hold my breath if I were you. As I experienced they never arrive.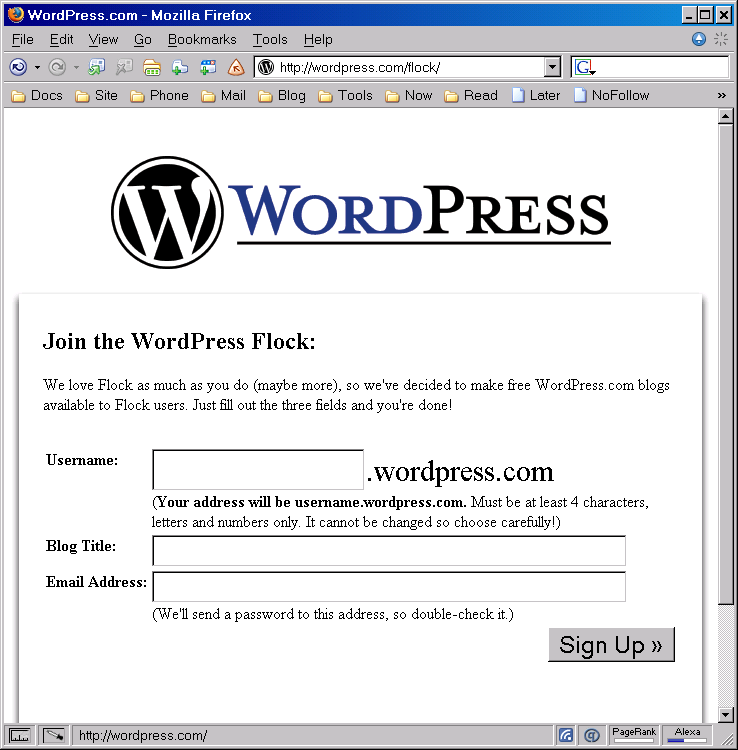 Simplified Instructions for Flock Users
In Flock if you open the page - http://wordpress.com/flock/ then you will be provided an option to choose an username and blog title for your new blog account. The password is sent to the email address you provide.
Instructions for Firefox Users
First download and install User Agent Switcher Extension. The XPI file here.
Restart your browser.
Go to Tools->User Agent Switcher->Options->Options menu.
Click User Agents and then click Add.
In the description field enter: Flock
In the User Agent field enter: Mozilla/5.0 (Windows; U; Windows NT 5.0; en-US; rv:1.8b5) Gecko/20051021 Flock/0.4 Firefox/1.0+
Ensure that the user string specified is entered as-it-is without any modifications.
Then select Flock after accessing Tools->User Agent Switcher
Now load http://wordpress.com/flock/
Fill in the details as specified in the simplified instructions for Flock users above.
Instructions for non-Firefox & non-Flock Users
Use any extension / proxy server / web client like wget that allows you to change your user agent. Change it to the string as specified above.
Now load http://wordpress.com/flock/
Fill in the details as specified in the simplified instructions for Flock users above.
Note: I have grown tired of these user agent based preferential treatment as is widely practiced by Microsoft and now by WordPress.com. I am providing this information for the sole purpose of exposing the futility of such schemes. Personally I haven't opened an account with WordPress.com.
BTW: Google does it too to limit access to several of its services to browsers only. My WordPress translator plugin overcomes one such restriction in Google Translation service using cURL.
Filed under:
CMS Software
,
Firefox
,
Headline News
,
How To
,
Internet Explorer
,
Microsoft
,
Tech Note
,
Web
,
Web Hosting
,
Web Services
,
WordPress