Rosa Parks Honored By Google
By Swatilekha Paul, Gaea News Network
Thursday, December 2, 2010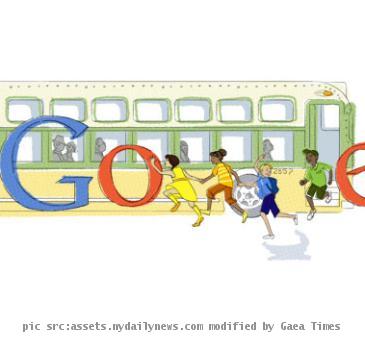 more images
SAN FRANCISCO (GaeaTimes.com)- Fifty years ago on December 1, 1955, a black woman had the courage to take a stand against racial discrimination by refusing to give her bus seat to a white woman during a ride to Alabama. However, the simple act of defiance showcased by the African American woman Rosa Parks turned out to be a significant milestone in the civil rights movement and eventually resulted in the 1955 Montgomery Bus Boycott. Fifty five years later on the same day, a unique honor was bestowed on Rosa Parks by Google with a help of a commemorative logo on its homepage commemorating the anniversary of the significant bus ride.
This is not the first time that the World No.1 search engine has resorted to celebrate a special occasion by resorting to Google Doodle as in the recent times, it has become a common mode undertaken by the search engine to commemorate significant events. The logo that has been used to recognize the anniversary of Rosa Parks to relinquish her bus seat to a white passenger, shows four kids representing the letters 'ogl' in the word Google, running in front of a bus. What indeed ends up making the logo symbolic is the fact that all the four children hail from different races and when any of the viewers click on the image, it leads to the search results of the civil rights activist.
Many had expected that December 1 being the World Aids Day, the search engine would use the platform to create awareness for the disease which has been plaguing many countries across the world. However, Google instead chose to use the Doodle to honor the civil rights activist Rosa Parks.