10 Best Minimal / Low-Footprint Linux distros
By Partho, Gaea News Network
Tuesday, February 23, 2010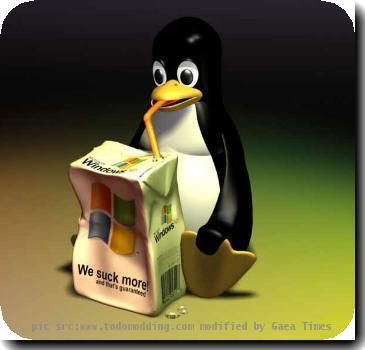 more images
With the emergence of netbooks there is an increasing demand for lightweight and faster OS with minimal/low-footprint. Google promises  Chrome OS for netbook to be a fastest and lighweight. But, as Bill Gates suggested it's just another Linux.
One of the important aspects for any desktop operating system performance is the amount of system memory available. Even with a fast processor it's important to have enough physical memory to keep that processor utilized, else the system will spend all its time shuffling data between physical memory and swap space. This will force the CPU to remain idle most of the time. This is the case especially with the older systems. There are a number of ways to deal with the memory footprint in older systems. The most common idea being adding extra RAM. However, there can be a several reasons for not doing so - ranging from affordability of RAM to lack of free slots. This minimal footprint Linux distros could be a viable option to work on such machines. Moreover, its widely accepted that Linux performs better on less than cutting-edge hardware. These old systems are also incapable of ruining the latest and greatest software. We listed the 10 best minimal/low-footprint Linux distros
1. Damn Small Linux
Damn Small Linux dubbed as DSL is one of the most versatile mini desktop oriented Linux distribution with minimal footprint. DSL was initially developed as an experimental linux distro to measure how many usable desktop applications can fit into a 50MB live CD. With prolonged development Damn Smal Linux received several refinements to include fully automated remote and local application installation system and a very versatile backup and restore system. These can be used with any writable media like a floppy drive, a USB device, or hard drive.
DSL offers a complete desktop with tiny core of command line tools. It has the ability to act as an SSH/FTP/HTTPD server right off of a live CD. The GUI administration tools allows a fully functional desktop, which is fast and easy to use.
Features
You can boot DSL from a business card CD, USB pen drive or from within the host operating system.
It runs smoothly from an IDE Compact Flash drive via a method we call "frugal install"
DSL can be transformed into Debian OS with traditional hard drive install
With low footprint, it can run fully in machine with RAM 128MB.
It is highly extendable without the need to customize
DSL includes the following
XMMS (MP3, CD Music, and MPEG), Netrik web browser, FireFox, FTP client, Dillo web browser, spreadsheet, Sylpheed email, spellcheck (US English), a word-processor (Ted), three editors (Beaver, Vim, and Nano [Pico clone]), graphics editing and viewing (Xpaint, and xzgv), Xpdf (PDF Viewer), emelFM (file manager), Naim (AIM, ICQ, IRC), VNCviwer, Rdesktop, SSH/SCP server and client, DHCP client, PPP, PPPoE (ADSL), a web server, calculator, generic and GhostScript printer support, NFS, Fluxbox and JWM window managers, games, system monitoring apps, a host of command line tools, USB support, and pcmcia support, some wireless support.
2. Puppy Linux
Puppy Linux is a widely used Linux distro with minimal footprint. It is a complete desktop suite that boots into 48 - 54M ramdisk from a USB keychain disk drive, Compact Flash, Hard Drive, Zip Drive, Floppy, Network/Thin, Client CD-ROM or Mini-CD. The entire OS and its applications run from RAM without enabling boot medium to be removed. It can boot from
A USB flash drive
A CD-ROM (Live-CD)
A Zip drive or LS-120/240 SuperDisk
Hard disk
Network
Floppy boot disk that loads the operating system from one of the devices listed above
Puppy Linux has a GUI SFS Boot Manager that enables the user to load SFS modules. These modules are combination of packages that can be loaded at bootup without installing them.
The applications included in the distro includes SeaMonkey, Abiword, Bluefish, Xfinans, Gaim, Gnumeric, Gxine, JWM, games, along with an assortment of utilities and tools. However, the distro lacks some of the standard applications such as Firefox, KDE, OpenOffice, Gimp, Audacity etc.
Puppy could be a useful linux distro for working on old computers, playing the role of an emergency rescue system. Further, it adds support for reading/writing to NTFS partition.
3. Tiny Core Linux
Tiny Core Linux is a small 10 MB minimal Linux GUI Desktop capable of booting from cdrom, pendrive, or frugally from a hard drive. The OS is based on Linux 2.6 kernel, Busybox, Tiny X, and Fltk. The core runs entirely in ram and boots fast. It also comes in a Micro Core a 6 MB image that is the console based engine of Tiny Core. CLI versions of Tiny Core. The program allows the same functionality of Tiny Core extensions that starts with a console based system.
Tiny Core is not a complete desktop and doesn't support all the hardware completely. It represents only the core that is needed to boot into a very minimal X desktop typically with wired Internet access. It provides the user full control over which applications and/or additional hardware to have supported. The users can install additional applications from online repositories or easily compile anything that you desire using the tools provided.

Link
4. antiX
Antix loads quickly, has lots of applications and has better multimedia support (e.g. I can run Flash and MP3 files). AntiX is a customized remastered version of SimplyMepis. It features Fluxbox as its default desktop environment. The current release antiX-M8.0 runs a 2.6.22 kernel with Xorg 7.0 on i686 and x86_64-bit machines with about a 310MB footprint. AntiX features the Abiword text editor, Gnumeric spreadsheet, Iceweasel 2.0 browser, Pidgin instant messenger, Mplayer media player, Xchat chat client, Mtpaint graphics editor and xpdf.
5. Vector Linux
This Linux distro with low footprint is compatible for Intel, AMD and x86 compatible systems. Vector Linux is based on one of the original Linux distributions called Slackware.  It requires 850 megs of disk space for a full install. These attributes set VectorLinux apart in the crowded field of Linux distro. It is lightening fast desktop graphical program that handles your daily activities from web surfing, sending and receiving email, chatting on ICQ or IRC to run an ftp server.
For the power users Vector Linux can provide all the tools to use the system as a server, compile their own program, or perhaps the gateway for their home or office computer network. With a small footprint it can deployed on the older machines that are almost obsolete.

Link
6. SimpleLinux
SimpleLinux introduces a new wave Linux distro that is simple and small in size, yet feature packed. It uses an flexible and elegant XFCE Window manager as well as Openbox WM. SimpleLinux is a Slackware based on Slax technology such as hotplug etc. It includes large sections of applications, and modules.  SimpleLinux  comes pre installed with many application modules. It is rich in multimedia featuring Juk, RealPlayer 10, KPlayer, and DVD Player (MPlayer). Users can  watch videos in various formats, write documents, print, scan, burn CD and DVD. It comes with many specialized tools, designed for all types of users.
7. SliTaz
It is a mini GNU/Linux distribution and live CD designed to run fast on hardware with 128 MB of RAM. It is light, speedy and fully installable on a hard drive. SliTaz was distributed from of LiveCD that can be easily burned to CDROM and boot form. The Live system offers a fully-featured, working graphical distro. It allows you to keep your data and personal settings on persistent media. SliTaz features BusyBox, a recent Linux kernel and GNU software. SliTaz allows you to keep your data and personal settings on persistent media.
The system can be extended using the Tazpkg package manager and security updates are provided for the cooking and stable versions.
Key features
It's root filesystem takes about 100 MB and the ISO image less than 30 MB.
Ready to use Web server powered by LightTPD with CGI and PHP support.
Includes Chat, mail and FTP clients.
SSH client and server powered by Dropbear.
Database engine with SQLite
It generates a LiveUSB device
Users can browse Mozilla Firefox or Retawq in text mode
Multimedia support provided by Alsa mixer, audio player and CD ripper/encoder
Tools to create, edit or burn CD or DVD images.
Elegent desktop with Openbox running on the top of Xvesa (X server).
1400 packages easily installable from the mirror.
8. Arch
This is a lightweight Linux distro with minimal footprint and flexibility. Arch is mainly based around binary packages. The packages are designed for i686 and x86-64 microprocessors to assist performance on modern hardware. It also has ports-like system that are provided for automated source compilation. It is known as Arch Build System. Arch focuses on simplicity for developers. It offers an official package that sets with a community operated package repository, which continues to expand in size and quality. This Linux distro is designed for intermediate and advanced Linux users who aren't afraid of the command line.
9. TinyLinux
This is a small distribution designed for i386, derived from SuSE 6.4. The base version contains only that needed to run Linux. The package is small and requires approx 7MB. The purpose of this TinyLinux is to have a small and clear system that can be used as starting point for further developments. Its use is not limited to desktop systems. It can be suitable for embedded systems. All binaries, directories and configuration files are taken from SuSE
10. Devil Linux
It is a small, customizable, secure Linux distribution that runs with 32MB RAM. Devil Linux's is small and customizable Linux distribution. Traditionally, Devil-Linux was used as a Router/Firewall. However, now it is used as a server for many applications. By adding an optional hard drive many network services can be included in the distribution.
The system can be installed without a hard drive. It can be installed using a CDROM and a write-protected floppy. The system can be fully configured, but the running system has no writable device.