Santa Tracker Activation - A Great Christmas Gift
By Tias, Gaea News Network
Friday, December 24, 2010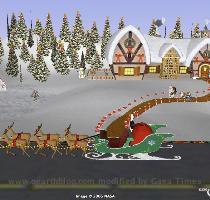 more images
LOS ANGELES, (GaeaTimes) A great gift for Christmas! North American Aerospace Defense Command once again activates The 2010 Santa Tracker service. With this children are able to track their very favorite Father Christmas. It took place way back in 1955. There was a department store ad that wanted to provide children with the facility to be able to talk to Santa Claus. Accidentally the number they provided was a wrong one and the call ended up at the base of Continental Air Defense Command, now popularly called NORAD. This led to the creation of an application called Operation Santa Tracker.
2010 version of Santa Tracker service has provided opportunities to both young and old people to track the location of Santa. The 2010 NORAD Santa Tracker is a complete multimedia activity. On Christmas Eve, the U.S.-Canadian military organization carries out Operation Santa Tracker in full swing. The Santa Tracker team answers all emails sent to it by users all across the globe. People all over the world are able to call the 2010 NORAD Santa tracker team for getting to know Santa's present location. These personnel provide a certain number for the purpose. The latest version of this application is also present on social networking websites like Facebook and Twitter. By logging into Google Earth a person is able to get the location of Father Christmas. 2010 brings about the availability of Santa on Google Maps Mobile. 2010 NORAD Santa Tracker delivers Santa's current location to all mobile phones.
Now Santa Tracker is available in downloadable versions also. m.noradsanta.org or Google Maps Mobile are a couple of the websites which provide users to download this application from the internet to their respective mobile phones. The services of the application are also available on Flickr, YouTube, Facebook and TroopTube.tv.