How to recover files deleted from USB flash drive
By Partho, Gaea News Network
Monday, January 25, 2010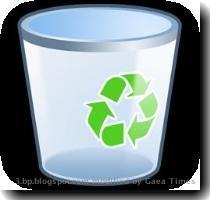 more images
Gosh! I accidentally deleted two important files stored on my USB Flash drive. To make things worse I had no backup of the files. That meant a complete loss.  File recovery is always a cool option. What if you had a special  recycle bin to retrieve files deleted from your flash drive. There is no recycle bin function in your portable flash drive. However, with a small portable program, iBin you can have a second chance to save your file. This could be quite a handy piece of application for the absent minded people. Adding iBin to your USB flash drive would mean a second chance to retrieve your files, if they are deleted accidentally.
It is free to download as a zip file to your USB flash drive. iBin does not require any installation.
To add the application unzip and extract the iBin.exe file into the removable device folder.
Run the iBin.exe. The program will create the container folder and the necessary file system in the device's root folder.
After the installation, iBin will start working in the operating system background.
When you delete the files and folders from the portable drive, you would see a prompt asking for confirmation whether you wanna
delete the file
cancel the deletion
dump the file into iBin.

There are some hotkey options that would speed up the file deletion
Windows + Del : Dump the selection directly
Windows + E : Erase the selection directly
Windows + Backspace : Undo the last dumping action
Users can connect the portable drive with iBin installed to the computer. Users would notice the iBin icon will appear at the Taskbar

Just right click the icon to open and clean the iBin Container. You can also customize  Dumping Management and Custom Options functions. The Dumping Management function would allow users to view the erased data and users can clear data and recycle data accordingly.
With the Custom Options you can set and customize their preference. e.g Space limit, delete action, restoring data conflict etc.
iBin is compatible with all Windows Version and it can be downloaded here