10 Best Linux Distributions / Distros in 2010
By soumitra, Gaea News Network
Thursday, February 18, 2010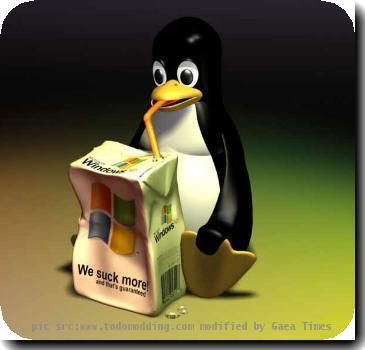 more images
Before telling you about the Best Linux Distributions or Distros available for 2010, you have to tell me what kind of user you are.  There are several types of Distributions meant a particular working condition and there are also several types of Distros that are created for certain type of users. If you are choosing a Distro for family or friends, it should not be the same as that you would choose for a enterprise. And if you are a student, you have to be sure that the applications and resources that you require will be available from the distribution that you are choosing. Here I have tried to compile a list of the Best Distributions that are the bests for their capabilities on a particular domain. Have a look at the list.
1. Ubuntu
To become the best desktop replacement for Windows or OS X has been the primary focus of many Linux Distributions released so far. And without slightest doubt Ubuntu is the best Linux Desktop Distribution since 2005. In this 2010, I think it will continue to be the best Linux Distribution for desktops edging out its closest competitors like Fedora or OpenSUSE. The main reason behind this may be due to the fact that the Ubuntu Development community is constantly focused on the end-user experience. They have spent a lot of time and resources to this distribution to bring the ease of use above everything else.
2. Fedora
And there is Fedora. It is the most popular and beloved Linux Distribution of any Linux hobbyist. The Distro is highly innovative and rightly or wrongly, they say that it is the testbed for Red Hat Enterprise Linux. Their contributions to the Linux Kernel, glibc and GCC are well acclaimed but somehow it feels that their priorities are on the enterprise features only. If they invested some resources to improve the desktop usability or stability, they would have been at the No. 1 spot above all other OS.
3. openSUSE
Apart from Fedora and Ubuntu, openSUSE is the most popular and useful Linux Distributions used by thousands of satisfied users in the whole world. The configuration tools of openSUSE are comprehensive and intuitive at the same time. There is large repository of software packages available and their website infrastructure and printed documented documentations are also superb. If you are in the hunt for a Linux Distribution for your laptop, this is the best you can get. It not only packs in the great connectivity tools but also there are easy to use toolsets that can deal with docking stations for laptops or a dual monitor management.
4. Linux Mint
It is a distribution based on Ubuntu. Many refer to this distribution as an improved Ubuntu. The improvement does not mean only some added theme or a new set of applications. The improvements include a variety of Mint tools such as mintDesktop for configuring the desktop, mintMenu for easier navigation, mintInstall for easy software installation and mintUpdate for easy software update activity. There are many multimedia codecs available for Linux Mint. Besides these user-friendly enhancements, the system is open to user's suggestions.
5. Debian Linux
This is one of the best Linux Distributions for those who want a stable Operating System. The well established quality control mechanism, progressive integration and stabilization of packages and features makes it the most bug free Linux Distribution in the market. However, its lengthy and complex development style slow release cycle of typically 1 to 3 years implies that you won't get the latest packages and technologies in it.
6. Mandriva Linux
Mandriva, formerly known as Mandrake Linux is one of the oldest Linux Distributions available. Primarily the distribution is targeted to desktop applications and its main advantages have been its beginner friendliness and excellent central configuration utility with support for dozens of languages out of the box. Its  main features have been its cutting edge software and superb administration suite with excellent implementation of its 64 bit edition.  It is also one of the few Linux Distributions that offered out of the box support for popular netbooks like Asus Eee PC lineup.
7. Red Hat Enterprise Linux
When its comes to Enterprise Server Linux Distros, there seems to be almost no contender to take the best Linux Distribution for Enterprise Server title from Red Hat Enterprise Linux Edition. Comparing the features and other factors, there is still no contender of Red Hat Enterprise Linux for this particular domain. It is a matured distribution and you should also keep in mind the support structure provided by Red Hat which is second to none.
8. PCLinux OS
PC Linux OS is now a nice and complete Linux Distribution with out of the box support for graphics drivers and browser plug-ins. The boot up time is fast and those who are migrating from Windows to Linux will find this Distro a breeze to use. There are a great variety of desktop packages and media codecs are also available out of the box. However, you should keep in mind that there is no 64 bit edition currently offered and there is no out of the box support of English languages.
9. CentOS
It is the most reliable server distribution with the same well tested and stable Linux Kernel and software packages from Red Hat Enterprise Linux. It is mainly a community project run by volunteers but it gained the reputation as a solid and free alternative of other costly server products on the market. It is also suitable for desktop usage where stability and reliability is a major concern. It is also supported with a minimum of 5 years of security updates.
10. Puppy Linux
It is one of the lightest distributions of Linux but still offers everything that you must need in a computer. The speed offered by Puppy Linux will satisfy anyone and there is everything like SeaMonkey browser e-mail client, AbiWord editor or Xara graphics Editor. There is also a Live CD Distribution with a very small installer. The specialty of this Distro is that it can run on computers that have RAM capacity as low as 64MB. It can boot from several media such as USB Flash Drive, CD or a zip drive. This distribution will run entirely on the RAM and so remember to save the modified personal files to disk before shutting down your PC.