Detailed Review & Tips: All-New Kindle Paperwhite 6″
By angsuman, Gaea News Network
Sunday, July 19, 2015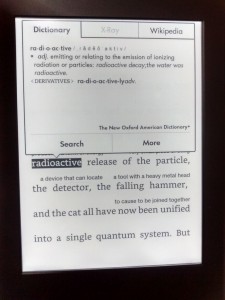 I have used Kindle Paperwhite for several weeks now. I have tried to incorporate everything you need to know before buying (or not) Kindle Paperwhite, an eBook reader from Amazon. To start with here's what I love about the All-New Kindle Paperwhite:
Single purpose device which means

less distraction while reading a book and targeted features like
dictionary on touch or
easy clipping & sharing on select etc.

Best E Ink tech available today at 300ppi: Very clear text, Less strain on eyes, as such suitable for long time usage. Good investment for book lovers who want less to carry while traveling.
Front-light - pretty uniform and without shadows. Makes it very convenient to read in dark or in bed without disturbing others
Re-flow allows you to easily read your books, adjusted to display size
Very light-weight which makes it comfortable to hold for prolonged periods
Hassle-free sync with cloud which includes your own docs and pdf too
Nice features (available both on Kindle Books and PDF files):
Create Bookmarks
Touch any word to select it and get its meaning from on-device dictionary or from Wikipedia.
Select any text to annotate or highlight. All your annotations are saved in a separate file which is very handy.
Select any text to share it on Social Media, specifically Facebook and Twitter. However

You cannot share it with your Facebook page(s). It will share only on your main profile
You cannot select more than one Facebook / Twitter account
You cannot email it.
What I don't like:
Worried about dropping it, about holding too tight and disturbing the alignment of front lights.
Update: seems less of a risk, there is more risk in me sitting / sleeping on top of it as I take it to bed
Experimental browser sucks - enough said. Barely usable, however I have successfully used it to view GMail.
Should be water-proof. Nothing like enjoying a book in bathtub.
There is a visible lag with large pdf files, not for page turning which is fine but for other functions like sharing, annotation etc. This is probably due to modest memory of 512MB, which incidentally is twice that o previous versions of Kindle
Kindle Paperwhite Tips:
Convert your own PDF / Docs by emailing to your Kindle address with CONVERT in the subject line. It will also be loaded on your default device.
You should not convert PDF with unsupported languages like Hindi or Sanskrit. Just upload the PDF and watch in Landscape mode. Double-tap to better use the space.
You can disable the screensaver by typing the following in search box: ~ds and then press search as usual

Summary: If you love books, this is good investment. I find myself reading a lot more with Kindle in hand.