LG Infinia TV Unveiled
By Sayantika, Gaea News Network
Friday, March 26, 2010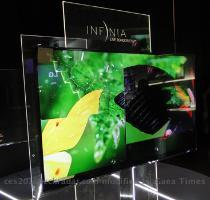 more images
SEOUL, KOREA (GaeaTimes.com)- LG has unveiled the world's first full LED 3D TV, LG Infinia TV which is a model called LX9500 which first made its debut at the CES 2010. 22.3mm slim, 55 inch screen size that is roughly estimated round 1200 LED's are the biggest power boosters for this newbie launched by the consumer giant. Moreover, its high ranged 10,000,000:1 dynamic contrast ratio, with TruMotion support at the rate of 400Hz is a boon to all 3D lovers offering the very best in Multi-Picture Format. In other words, LG Infinia TV LX9500, shall give a chance to all viewers to witness 3D images that have been taken by the camera and it doesn't requires any conversion which one normally does in the PC.
LG Infinia TV LX 9500 has a fine ended shutter glass which is the key factor that counts to the color level and display depth of the TV. In accordance to the screen refresh rate, it goes ahead to cover the lens that offers the display level its profoundness. The LG Infinia TV LX9500 comes with 3D glasses which are comfy to wear and can be recharged by the USB. The model claims to offer a backup which lasts for more than 40 hours. As it is being said at the launch of the product, LG is looking forward to reach sales at 80 million units by the year 2014 which accounts to almost 25% of the total shares in the whole 3D arena as LG is easily one of the three consumer giants catering similar services, the other two being Sony and Samsung.
It is being said that LG Infinia TV shall be employing a combination of both shutter as well as the polarized lenses to achieve that perfection level which everyone is craving for in today's cut throat market.