Top 10 Ways To Protect Yourself From Phishing
By Shaon, Gaea News Network
Friday, October 29, 2010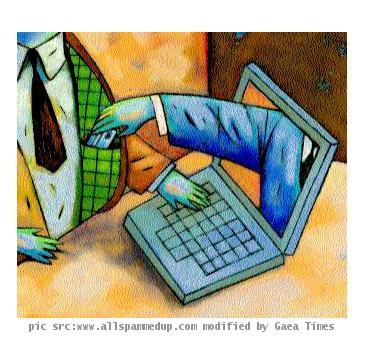 more images
There were approximately 126,700 phishing attack in the second half of 2009. A criminal organization called the Avalanche was responsible for more than 24% of the aforesaid attacks. All they did was to target a group of individuals who were not technologically equipped, and people who were left in a lurch like an unemployed person living of some meager benefits. Avalanche designed a malware that would be efficient enough to make unauthorized transactions from the victims bank and leaving them high and dry. The mass production of sites perpetrated by the group made sure that no link on the Internet was ever regarded as safe. So what do you need to do to protect your online Identity and bank account from such attacks?
1. Nothing in the world is free and people who claims to give you the $1000000 dollars lying in your bank account would definitely want something in return. Greed is the basic driving force that guides such attacks. Any legitimate concerns will not ever ask you for any sensitive information over the email and even then. the number 1 priority of phishing is stay off the transaction sites.
2. Never fall prey to the sense of urgency generally promoted by such operators. Should your account to Salesforce be suspended rest assured that they will never want your social security number to verify your credentials.
3. Trusting an anonymous person in a Yahoo messenger is not really a demonstration of wits. With all the benefits the Internet gave us the one thing that it took away is a sense of Identity, Sure you love to chat with your new found Danish friend but that does not mean that he is privileged to your bank accounts. Ignore the "If you don't respond within 48 hours, your account will be closed …" or "Get your refund now …"
as a rule of the thumb.
4. Once you feel that your identity has been compromised it is better to contact the concerned authorities than to stand and wait when actually some harm would be done to you. Once the scammer has your details you are no more than a sitting duck waiting to be attacked.
5. Upgrade your browser to the latest available and if possible shift to the wonderful Firefox. But now a days even the humble Internet explorer would allow you to spot a malicious site from miles away.
6. Keep a tab on your account even if it means that it is the last thing you have to do before you leave for office. The phishers would actually rob you off all the things you have been working hard for including your savings your contact list or your identity. It is essential to close your account and take the necessary steps once you feel that your account has been compromised. There is just no way about it.
7. Stay away from attachments sent to you by an unknown person. Even a harmless PDF file may contain rabid malwares that are going to record every thing you do and send it over to the attacker.
8.Even if a link forwarded to you looks like the real thing and lands you on what looks like the homepage of your online service like crm be wary that the phishers have a way to redirect you to their own page. Once you enter your details there its almost game over. Moreover there is no point in trusting the site since the mail was addressed to you personally. You have to understand that that these are truly desperate people and would even go so far as to check your social media footprint in order to obtain your Name.
9. Whenever you detect that you computer has been on the end result of such a scam and you have downloaded some malicious code it is essential to remove that computer from the network and scan it thoroughly with the help of a good antivirus software.
10 lastly check out if the page you are making payments on is efficiently encrypted and whether it would compromise your identity or account in any way. head over here https://www.sonicwall.com/phishing/index.html to get to know regarding the general patterns of a phishing mail. You will also get yo know your IQ so that you would always know how to prevent your privacy.