Dell replaces cushions of paper, plastic with molded bamboo to ship netbook line
By AP
Tuesday, November 17, 2009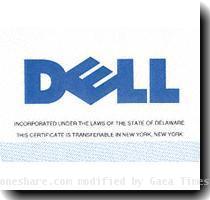 more images
Dell eyes new green move with bamboo packaging
SEATTLE — Bamboo has sprouted all over. It's being used everywhere from floorboards to tableware to inline skates and T-shirts, as consumers increasingly seek out products considered gentler on the Earth.
Now, computer maker Dell Inc. is using the fast-growing member of the grass family as a replacement for paper, plastic and plastic foam packaging materials.
Starting Tuesday, the molded cushions that protect two of Dell's computer models from damage during shipping will be made of crushed bamboo.
Dell's bamboo comes from China's Jiangxi province, which the company points out is far from the grazing grounds of the endangered giant panda. Dell said the forest is certified by the Forest Stewardship Council, an international organization that makes sure the bamboo isn't genetically modified or grown with hazardous pesticides. The council also sets standards for working conditions and tracks the bamboo from the forest to the delivery of finished packaging at Chinese contract manufacturers that put new Dell computers into boxes.
The process of turning bamboo stalks into pulp is mechanical, not chemical. Dell said it worked with the company that supplies the molded cushions, Unisource Global Solutions, to build a system that captures and recycles water used in the process.
Making the cushions from bamboo instead of paper pulp takes a little longer, but it costs less, said Oliver Campbell, Dell's senior manager of packaging.
Dell is among the first companies to use bamboo in this way. Others include Method Products Inc., a maker of environmentally friendly cleaning supplies.
The downside of being early at this: Many municipalities don't yet recycle the bamboo material. For now, people who order the Dell Mini 10 and Mini 10v netbooks, the first to ship with the new packaging, will have to toss the cushions into the trash.
Campbell said the company is getting the packaging certified as recyclable, a monthslong process that involves teaching recyclers that they can put the bamboo products into the corrugated cardboard waste stream. That certification should be complete in the first half of next year, Campbell said.
Dell expects to pack additional computers with bamboo cushions in 2010 and says it is evaluating other sustainable materials.
Filed under:
Dell
,
Information Technology
,
Technology
Tags:
Eco-friendly Practices
,
Flowering Plants
,
Materials
,
North America
,
Plants
,
Seattle
,
United States
,
Washington
,
Waste Management