Octopus Paul predicts Spain over Germany at World Cup semifinal
By AP
Tuesday, July 6, 2010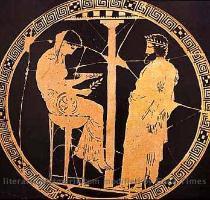 more images
Octopus Paul predicts Spain over Germany in WCup
BERLIN — Octopus oracle Paul is predicting Germany will be defeated by Spain at the World Cup semifinal.
Sea Life Aquarium's spokesman Daniel Fey said Tuesday that the famous mollusk from Oberhausen chose a mussel from a glass tank marked with a Spanish flag, while ignoring the tank marked with the German colors — indicating a Spanish victory in Wednesday's semifinal.
But there could be hope for the Germans.
The only time the usually-prescient Paul erred in the past was in picking a Germany-Spain matchup in the 2008 European Championship, when he picked Germany and Spain prevailed.
Otherwise, Paul correctly predicting Germany's wins over Argentina and England, and also foretold the victories over Australia and Ghana and the country's loss to Serbia.