Top 10 Free Windows 7 Anti-Virus Software
By soumitra, Gaea News Network
Saturday, February 13, 2010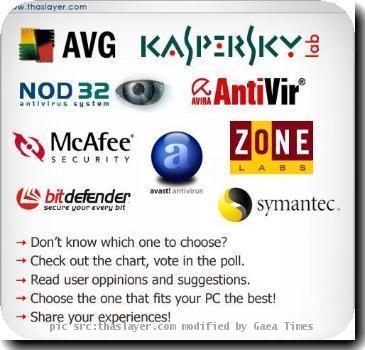 more images
Windows operating system has been the favorite target of many viruses. Though Windows 7 security system is pretty strong to defend against even some major threats, it is always safe to have a good antivirus software installed. And while you have purchased your copy of Windows 7 recently, or may be even the whole computer, not having to spend a whole lot of money on the Anti Virus software should feel fine. Here is a list of the best free antivirus software that are available for Windows 7.
1. Avast! 4.8
Avast is a longtime favorite of mine as a free antivirus software. Most interesting feature of all is the DOS based boot time scan which is very rare to see in a free software after all. The antivirus does not create a huge load on the system memory or processor and the scanning processes are also pretty fast. It is also one of the few Anti Virus softwares available in the market that can detect almost every threat to your system.
2. Avira
Avira is perhaps the most popular free AntiVirus software of last year. It is very good to detect almost every kinds of malware on your system. The scan speeds are one of the best for a free anti virus software. It also works both on 32 bit and 64 bit Windows 7.
3. Panda Cloud Antivirus
This software is our bet for the best AntiVirus in the coming years. Though it is still in Beta mode and using an antivirus in Beta mode may not sound too intelligent but I am pretty confident with Panda. For your information, lemme tell you that it has the better virus detection rate than most other common anti-viruses according to PC World.

4. Kaspersky Anti Virus 2009 Free Edition
The Kaspersky Anti Virus Software Paid version is one of the best Anti Virus softwares that we reviewed till date. The anti virus software is also available as a free version. Though I have not tested it yet, I am confident that it should work fine.
5. AVG 9.0 Free
The AVG was a very popular antivirus for some time. Then there were times when it seemed that their AntiVirus Software is of no use. The latest AVG 9.0 is like the old antivirus software that I used for quite some time. And there is also the Link scanner toolbar that sits over the browser and scans every link and tell you which link may harm your computer. This is sometimes very useful for the novice users. It is also available for both 32 bit and 64 bit versions.
6. Norton Anti Virus 2010 Free Edition
Norton Anti Virus is one of the oldest Anti Virus Softwares and needs no more introduction. The previous versions of the anti virus have been not that good and customers reported that it slowed down their system. The latest 2009 version brought in a good change to that mood and the new 2010 edition is surely an improvement over it.
7. Comodo FireWall + AntiVirus
Comodo has provided very good firewall for several years and recently they have also released an antivirus program to complete their security offerings list. The good thing about the software that they come as separate programs. You can choose to install only the firewall or only the AntiVirus and you are not always bound to the package.
8. Microsoft Security Essentials
The replacement for Microsoft Live One Care comes totally free. The reviews of the software has been mixed and some are saying that it is a good software and other are seeing this as failure. However, I did not have any problem working with the Microsoft Security Essentials.
9. Bit Defender Anti Virus
It is the watered down version of the popular paid Bit defender Anti Virus software. The Interface and the detection rate is very good but there are certainly some other Anti Virus softwares that are better than this.
10. PC Tools AntiVirus
This is another contender in the free Anti Virus Software list. The A-squared anti malware of PC Tools is pretty famous application of them.
Conclusion
If you want to go for the best detection rate, Panda should be your choice. If you want the minimal basic protection, you can opt for the Microsoft Security Essentials Pack. To get a solid and complete package, Avast is first and AVG is second choice. Avira also has a fast detection rate and scanning speeds and is the most popular antivirus software. But however, whatever antivirus you may choose, my recommendation is that you use both AVG's Link scanner and Comodo Firewall besides them. Both of them are available as free downloads.