Top 10 Wireless IP Phones in 2010
By Partho, Gaea News Network
Friday, May 14, 2010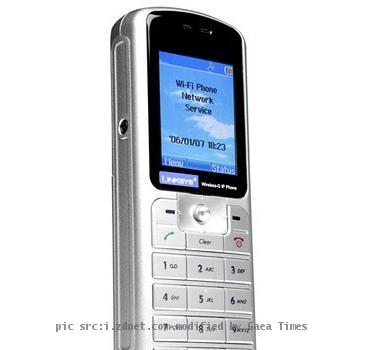 more images
Wireless IP phone is one of the hottest new technologies in the VoIP market today. The wireless IP phones have become increasingly popular in corporate or home LAN or WiFi hotspots at cybercafes and public places. The wireless IP phones allows seamless portability and cheaper calling costs. Before choosing a wireless IP phone you might have to encounter several questions, problems and issues. You need to assess why are looking for wireless IP phone; what type of phone you require; who will be using it; and what are your expectations from it. We provide a list of top 10 wireless phones in 2010.
1. Unidata SQ-3000
This wireless IP video phone offers smart features wireless telephony absolutely free from cords such as PC and headset. It offers clean communication quality embodied by QoS-supporting WMM. You can avail charge free multimedia typed Push service in wireless internet surfing as searching, shopping, weather forecast, news and the likes. It also allows high-speed data transmission which allows faster access downloading for wall paper and bell, and whistles of mobile phone including SMS through SIP messaging. There are many interesting VoIP functions enjoyable at wireless telephony completely free from cords like PC and headset. Clean communication quality embodied by at an announcement of Wi-Fi alliance in order to get rid of intervention in communications under the wireless network sharing space.
Price:$349.95
2. Philips VOIP841 Wireless IP
Philips VOIP841 is a self contained unit that requires no installation of software or connection to a computer.  Users can simply plug the base into any power outlet and connect it to your broadband connection. It might be able to make free.
Price:  $329.99
3. Cisco 7920
The Cisco 7920 IP Wireless Phone provides upscale features such as security, quality of service (QoS), mobility and advanced management. It works best with Cisco equipped networks. However, it's important to know that this phone is for corporate environment.
Price: $228.76
4. ZyXEL Prestige 2000W
The ZyXEL Prestige 2000W wireless IP phone uses SIP signaling protocols over 802.11g networks. It has a built-in NAT router. It must be directly connected directly to a WAN like web server. It is a powerful phone, but features a monochrome screen.
Price: $160.50
5. NetGear SPH101
This wireless IP phone is enabled for Skype. It is the world first wireless IP phone that able to make free calls to Skype users without using a computer. It is a wonderful phone with color screen.
Price:  $24.95
6. Linksys CIT200
The Linksys CIT200 wireless IP phone is rather cheap phone for the quality it offers. It can be used with Skype. It comes with charge and handset and supports SkypeOut dialing. The phone base connected through USB and handset is cordless. It has color screen.
Price:  $114.99

Link
7. Linksys WIP320
The Linksys iPhone Wireless-G Phone for Skype features a Wireless-G Phone and charger and comes pre-loaded with Skype. Users are now free to use Skype anywhere they have wireless Internet access. You just need to select who you want to talk to from your contact list on your color display and get ready to talk. The Wireless-G Phone supports SkypeOut dialing and rings when you have a Skype. In call coming in, displaying the caller's ID on the screen. The Wireless-G Phone also supports call waiting and Skype's optional Voicemail service.
Price: $161.00

Link
8. QuickPhones QA-342 MIP200EN
The QA-342 IP phone is a SIP based device with longer talk time. It has wide range of calling features that includes Phonebook, Call History and Caller ID. The QA-342 has an array of features on its 112×64 pixel monochrome display with backlight. It offers 14 hours of talk time and 7 days standby. The QA-342 has battery, charger and desktop charging stand.
Key features
It has been tested with Asterisk Open Source PBX, FreeSwitch,Trixbox, Elastix and other platforms
FCC & CE complaint, IEEE 802.11b/g, WEP/WPA/WPA2, WiFi Protected Setup, G.711
14 hours Talk Time
Price $149.95
Link
9. UTStarcom F1000G Wi-Fi Handset
It's basically a residential wireless IP handset is a revolutionary device that expands the reach of VoIP communications. It offers effective cost way to communicate, with great features such as 3-way Calling, Call Waiting, Call Transfer and many popular features.
Price: $130.00
10.  Linksys WIP300
The Linksys WIP300 wireless IP phone offers high-quality VoIP with 802.11g Wi-Fi network. It also supports for signaling. The screen with large display and full colored. The use and configuration are easy. It also offers like WPA (Wi-Fi Protected Access) encryption.
Price: $203.00