Reuter's Admits Doctoring (Photoshopped) Beirut Photographs, Fires Photographer Adnan Hajj
By Angsuman Chakraborty, Gaea News Network
Monday, August 7, 2006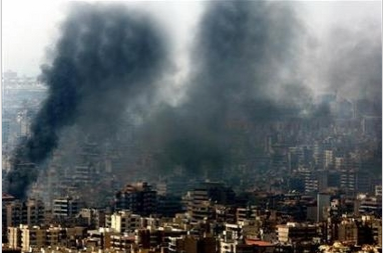 Reuters withdrew all 920 photographs by a freelance Lebanese photographer from its database on Monday after an urgent review of his work showed he had altered two images from the conflict between Israel and the armed group Hizbollah.

Global Picture Editor Tom Szlukovenyi called the measure precautionary but said the fact that two of the images by photographer Adnan Hajj had been manipulated undermined trust in his entire body of work.
"There is no graver breach of Reuters standards for our photographers than the deliberate manipulation of an image," Szlukovenyi said in a statement.
Reuters ended its relationship with Hajj on Sunday after it found that a photograph he had taken of the aftermath of an Israeli air strike on suburban Beirut had been manipulated using Photoshop software to show more and darker smoke rising from buildings.
An immediate enquiry began into Hajj's other work.
It established on Monday that a photograph of an Israeli F-16 fighter over Nabatiyeh, southern Lebanon and dated Aug 2, had also been doctored to increase the number of flares dropped by the plane from one to three.
via AlertNet
Here is a photograph of the same location from same vantage point by Associated Press.

The credit for this expose goes to bloggers like littlegreenfootballs and others.