10 Ways To Protect Your PC While Working Online
By Partho, Gaea News Network
Wednesday, August 18, 2010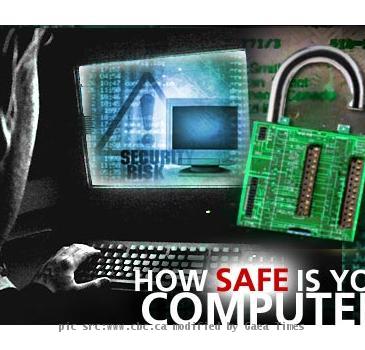 more images
Most of us spend a major portion of day on Internet. Moreover, social networking has increased our time spent buzzing around on the Internet and with it the dangers of infection on PC has inflated significantly.  Whether looking for online social games or searching for celebrity gossips you are unknowingly exposed to malicious threats on Internet. Inspite of a anti-virus your PC might be infected with malware, spyware, trojans or other infection. Once your PC has been infected, you start facing undesired problems. There are some simple guidelines that you can follow to avoid such troubles. We listed the best ways you can protect your PC while working on Internet.
1. Update Java / Adobe Reader / Adobe Flash
Java / Adobe Reader / Adobe Flash are often responsible for an perilous infections in PC. The best way to avoid becoming a target is to update all three pieces of software. You will be automatically prompted for Flash updates. You must set java to search for updates daily.
For Adobe Reader set automatic updates.
2. Update Windows OS
Update your Windows Operating System regularly. For this set your windows updates to install automatically. It would protect your system against hackers looking to exploit vulnerabilities in your OS.
3. Keep me signed in
Often you see this check box in your email or other websites in which you have already registered or wanna register. Never sign in into any site with the Keep me signed in box checked unless its your own PC.
If you sign in to Google, eBay, Amazon or other site from a public PC just make sure you sign OFF at least once.
To ensure your privacy either browse in privacy mode or delete the browsing history from the website.
Even if you are prompted don't save the passwords.
4. Don't go for unknown online gaming sites
There are hoards of free to play online games and social games on Facebook. What you need to know is that the client software can be malicious and quality assurance spotty. Playing or registering for such games puts your PC at risk.
Just see that you don't indulge into the old "FarmVille Secrets" scam. Users can download a Trojan or expose it to Facebook login info to hackers
5. Searches for celebrity
The malware programers know that a large section of users look for this sex/celebrity combo. The new attacks are targeted towards this crowd.
Search for such news on Google News, Bing News or other aggregator. These services filter splog sites so it reduces the risk of being infected from search results.
6. Avoid using BitTorrent to download copyrighted software/film/TV
In order to avoid infections use the official downloads/stream such as iTunes, Hulu and authenticated websites. Even if a torrent site is legit, it could have some ads that are compromised. The drive-by download are often found in compromised ads. It can infect the computers with any malicious infection. Avoid downloading pirated material.
7. Searching for free porn
Searching for adult content is common habit with all sections of users. Most of the websites that host adult content charge hefty amount of free for it. Sites offering free porn are shady and they are specifically designed to target the visitors.
Always go for the paid sites since their security is better.
8. Privacy settings for Social Networks
When taking about Privacy settings, you must know that world's top social networking site Facebook suffers from privacy issues. Once you open a Facebook account or you already have one, don't let your friends -of -friends see your birthday or any other personal information.
Only the friends should have access to the more personal information. Don't a accept friendship request from unknown users.
9. Don't connect to unknown Wi-Fi network
Sometimes you log in into unknown (private) wireless networks airports and hotels. Be sure that you choose the official one. and not another in the neighbor. In your public settings adjust for no file sharing and increased firewall settings.
10. Don't fall for phishing or scam sites
There are sites that claim to offer free iPad, PlayStation 3 or similar gadgets. Scrutinize the site and offer they make before you make the final go. Avoid giveaway from big brands that is not supposed to be offered by that brand.
Source: GIZMODO