CES 2010: What to Watch Out For
By Partho, Gaea News Network
Tuesday, January 5, 2010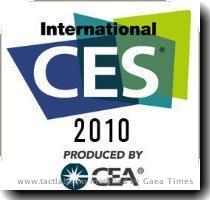 more images
With all eyes on CES 2010, the geeks are eagerly waiting for better tomorrow.  However, according to the speculations this CES 2010 would be a 'showier affair' given to last year's gadget-gala. While we covered the last year's show, we caught up with some cool revelations, especially the most promising Palm Pre. To all those eagerly waiting for the new products to walk the ramp might in case escape a shoddy affair as predicted by most preshow grapevines. As the affects of recession is shrinking and thrust on product development filliping, we might have some cool surprises unfurling this CES. According to the anticipations the new releases are designed to narrow down the gap between smartphones, netbooks, and media players - an all in one gadget could be the Next Big Thing. As time inches towards 2010 Consumer Electronics Show we have our fingers crossed on all tech innovations for 2010. Before the curtain raiser we thought of addressing the tech trends which you could watch out in CES 2010.
Emergence of 3D HDTVs
The new 3D push is the latest buzz on CES, which promises a revoution in entertainment industry. With the latest release of James Cameron's fantasy adventure "Avatar" the increasing demand for 3-D films peaked. It's high time to experience 3-D films right at your living room. TV broadcasters must be craving for the 3D TV.
There could be new 3D technologies like the upcoming HDMI 1.4 specification and the latest Blu-ray 3D, that would make their way to the event. These could help make 3D television more common. The 3D TV might get the most out of Blu-ray 3D. This craze for 3D could grow up as 2010 World Cup soccer tournament will be broadcast in 3D. No surprises if we come to see TVs that connect to the Internet.
The next gen LCD TVs would see more of green and slim HDTVs. LEDs for backlighting is more energy as well as space efficient than conventional fluorescent (CCFL) backlighting.
Blu-ray Players
We hope the advances in Blu-ray disc technology would continue and it must be capable of supporting the newly finalized 3D Blu-ray specification. Interestingly, the new 3D discs will be compatible with 2D players as well.
Audio and Video
The days of the portable media player or MP3 player are gone and consumers are waiting for the Next Big thing in audio. Most probably the next-gen devices could be the things that can do everything. These might be gadgets with apps that could possibly do all the productive activities. The boxes such as the Roku HD-XR might provide some friendly competition at CES 2010. The new audio devices might offer access to Netflix's on-demand movie/video library. Netflix access and streaming media are all wrapped up in one easy-to-set-up box.
Mobile
Waiting for the most-talked about mobile phone of the show, we have a one stop shop choice in Google Nexus One. It will make real public debut at CES. It is expected to be locked or sold with T-Mobile services. Most of the other major mobile companies would prefer to wait for Mobile World Congress. However, you can expect some news from Palm, LG, Samsung and HTC.
Another significant revelation in CES 2010 could be that of the 4G networks by Sprint, Verizon and AT&T. Sprint already offers WiMAX services. We might have some news on WiMAX devices in this gadget-gala.
Laptops & Netbooks
Netbooks at CES 2010 are anticipated to give away a new genre of netbooks called SmartBooks and tablets. Qualcomm is all set to release Smartbooks that would run some variant of an ARM processor. They might not run a Windows Operating system such as Linux and cost as low as $200 per device. The tablet would be SmartBooks distinct for its parts and software. They wouldn't have a physical keyboard. The Tablets might fit into the e-book reader space and might achieve more success than MIDs. These could be touch-enabled netbooks without keyboards.
The Netbooks might stick to the Atom processor, but they will be enhanced with different supporting casts and more energy efficient netbooks with 10 hours of battery life.  The netbooks will offer an enhanced media playback streaming from Hulu or watching a film in Blu-ray format.
Desktop
With significant upgrades in integrated graphics systems by Intel and Nvidia we might see machines piped out in the market with high-definition video and audio. We hope to see some miniature and slimmer designs at CES incorporating the latest and greatest chipsets.
GPS device
Efforts on navigation devices could allow some new surprises. Garmin and TomTom would have some new ideas on navigation devices that could leave behind the mobile phones and apps such as Google Maps Navigation.
Home Networking
In the CES 2010, the networking might show some significant enhancement. We expect to see faster wireless routers and more home-entertainment-oriented products from Belkin, D-Link, Linksys, and Netgear. The 802.11n wireless standard finally won approval in late 2009, but router makers had already embraced the standard and launched wireless N products.
Get pull audio and video content from the Internet or from a computer's hard drive. We might see some new networking systems that could collect, catalog, and manage it; send it to different sized  screens around home. The products could be designed to access Internet, net video (play or store) and locate and organize net video from the devices throughout the home network.
Input Devices
CES 2010 might witness some overempahsized input devices guided by ergonomics. We expect to see a ErgoMotion Keyboard and ErgoMotion Mouse from Smartfish. It has been designed to relieve stress from repetitive motion. The new peripheral can automatically adjust to the users hands.
Robotics Zone
This will be an exciting addition to the CES 2010 this year. But we haven't seen any major improvements in consumer robotics in the recent years.
With all our hopes up, we gotta see the new technologies unfurl. We are eagerly waiting for the defining moment in this show.