Classic Cartoon Character Again Goes Virtual
By Reema, Gaea News Network
Friday, December 3, 2010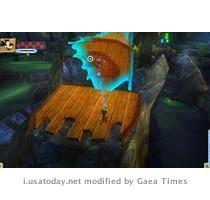 more images
SAN FRANCISCO (GaeaTimes.com)- The classic cartoon character Mickey Mouse, will once again make a come back to the virtual reality, in the form of a video game. The new game, after the name of Mickey Mouse, was launched right before the World Cartoons Day, so that the old fans of the cartoon hero could also pay a tribute to him.
The new game has been entitled as "Epic Mickey", and is available exclusively on Nintendo Wii. It has been created by Warren Spector and is sold at the cost of 39.99. Warren Spector said that he was pitching a dystopic sci-fi game. He initially thought that Disney would show no interest in his project, but soon they asked him to pitch one for them. However, this is not the first time that the classic cartoon character was brought into video games. Mickey Mouse introduced his first gaming in 1990's "Castle Of Illusion on the Sega Mega Drive", thereby reaching a good height of popularity in the virtual world. However, "Disney's Magical Mirror" in 2002, was not that well received and was rather unsuccessful. Since then, Mickey refused to be a part of video game, until 2010, when his video fame was once again revived by "Epic Mickey".
Graham Hopper, boss of Disney Interactive said that everyone knows the classic cartoon character, Mickey Mouse and relates to him in more than one ways. Although the nature of relationship can vary from person to person, the goal of this video game is to make Mickey Mouse a video game super star once again.