How Obama's State of Union Address Affects Outsourcing
By Partho, Gaea News Network
Friday, January 29, 2010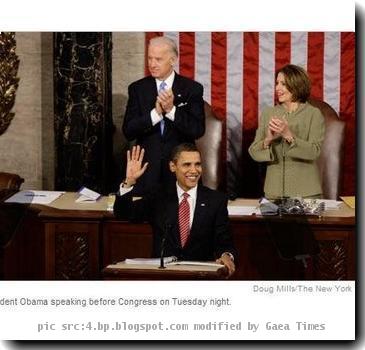 more images
Surrounded by allegations for his undelivered promises, a crenelated President Barack Obama seems all set to pull out all the stops to fight the current economic, political and foreign policy crisis. While speaking on first state of union address on Wednesday, Obama pledged to stop US companies from outsoursing jobs. Revising his anti-outsourcing stance adopted during his election campaign, President  Obama focused on reforms to encourage businesses to stay within U.S borders.
His first year in the President's office has been bedeviled by continuing slow-down and job loss. Obama's speech was an attempt to wave the public opinion in his favor in a situation when US job market has been struggling to recover from the global financial crisis, and for worse unemployment remains at 10 per cent.
He highlighted the issue of depletion in jobs in US due to outsourcing in foreign markets. Revealing his plans to counter the situation, Obama said,
it is time to finally slash the tax breaks for companies that ship our jobs overseas and give those tax breaks to companies that create jobs right here in USA.
Reacting to Obama's union address, Virginia Governor, Bob McDonnell's Republican response read
Today, the federal government is simply trying to do too much,
He added
In the past year, more than 3 million Americans have lost their jobs, yet the Democratic Congress continues deficit spending, adding to the bureaucracy, and increasing the national debt on our children and grandchildren.
However, like it or not Mr. Obama is clear about his stance - one must tie jobs in America to American workers. He announced tax incentives for training U.S citizens. This would ensure that all workers are authorized, and that the U.S companies can avail tax incentives to provide all U.S. citizens, LPR required training and keep workers on the job. Straightaway the reforms would make it profitable for U.S. companies to invest in the U.S. labor force.
Speaking on the occasion he also warned Americans about the steadily increasing competition from India and China.  However, India's concern over the impact of the changing tax-breaks and outsourcing policies appears to be minimal.
According to Nasscom, ending the tax-breaks for companies that ship American jobs overseas would hardly impact the tech and BPO (business process outsourcing) sectors.
Dr Ganesh Natarajan, Vice-Chairman and CEO of Zensar Technologies, explains the situation
The move to incentivise companies that create jobs in the US is fully understandable…But in my view, it will be difficult to impose tax on companies that ship jobs overseas
In any case it is clear that the reforms in tax-breaks won't have a great impact on the Indian IT industry. The key is to understand that companies get tax benefits on the funds they repatriate back from overseas operations. Alleviating the tax-breaks might discourage newbies looking to venture into offshoring. Those already in offsoursing business will continue their operations.