Oracle's fiscal 1Q earrnings to show progress in Sun Microsystems turnaround
By AP
Thursday, September 16, 2010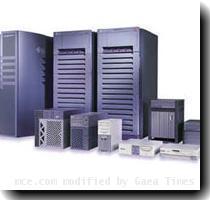 more images
Oracle's quarterly numbers to show Sun moves
SAN FRANCISCO — Oracle Corp.'s quarterly financial report will offer a window into its progress in turning around Sun Microsystems — and a chance to hear from CEO Larry Ellison and his newest hire, ousted Hewlett-Packard Co. CEO Mark Hurd, on the hubub over Hurd's hiring.
Oracle reports after the market closes on Thursday.
Investors will be eyeing Oracle's progress in selling Sun's computer servers. Server sales overall are rising, but Sun has been losing steam. Ellison thinks he can change that, and investors will be looking for proof.
Meanwhile, Hurd has officially started his job as an Oracle co-president while a lawsuit filed against him by HP to stop him from working at Oracle makes its way through the courts.
Hurd is expected to be on the conference call with analysts, in his first public appearance as an Oracle employee. He's also scheduled to speak Monday at Oracle's annual conference in San Francisco.