Top 10 Cloud Computing Service Providers in 2010
By Partho, Gaea News Network
Friday, May 21, 2010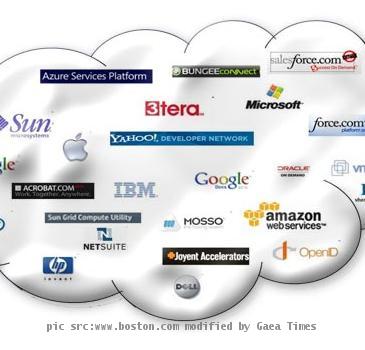 more images
The year 2010 has been manifested as the "year of cloud computing". Cloud computing provides a new alternative, consumption and delivery model for IT services based on the Internet. Typically, it involves the provision of dynamically scalable and often virtualized resources as a service over the Internet. Several cloud computing services have suffered outages, but it still continues. Cloud computing is preferred infrastructure for business looking to curtail down the capital expenditure that is converted to operational expenditure. This apparently reduces the barriers to entry as the infrastructure is provided by third-party. It doesn't need to be purchased for one-time or infrequent computing tasks. Implementing cloud computing infrastructure in-house doesn't requires high-flown IT skills.
According to a recent survey of 670 IT executives by Saugatuck Research suggests that while only 3 percent of executives currently see cloud services as an extension of their existing internal IT infrastructures, 50 percent consider it would steadily progress into their portfolios within a year. That number is expected to rise as high as 76 percent by year-end 2013. Only 14 percent of executives were uncertain if the cloud would become mainstream in their operations.
Now for those businesses willing to look beyond the four walls of computing resources, cloud services is always an feasible choice. It provides you would servers and storage ready to meet your needs. Network connections that perform. Security that you can trust. Dynamic management tools that allow you to make changes in real-time and provide you visibility into your environment. We had already done with the top 10 cloud computing service providers.  This time we have researched for the top 10 cloud computng service providers in 2010.
1. Amazon web services

Amazon Elastic Compute Cloud offers completely flexible computing environment in the cloud. It is a simple and easy to handle cloud computing service that allows development of application.  Amazon EC2 is a web services that offers resizable compute capacity in the cloud. It has made web-scale computing easier for developers. The web interface allows clients to obtain and configure capacity with minimal friction. It provides complete control of computing resources and let client run on Amazon's proven computing environment. Amazon EC2 changes the economics of computing by allowing the users to pay only for capacity that you actually use.  Amazon EC2 provides developers with tools to build failure resilient applications and isolate themselves from common failure scenarios.
Amazon EC2 presents a true virtual computing environment, allowing you to use web service interfaces to launch instances with a variety of operating systems, load them with your custom application environment, manage your network's access permissions, and run your image using as many or few systems as you desire.
Key features
Elasticity: Amazon EC2 enables to increase or decrease capacity based on minutes, hours or days.  Clients can use commission one, hundreds or even thousands of server instances simultaneously.
Control: To completely control your instances. Each user can have root access and user might be able to interact with them. Users can also stop an instance while retaining the data on the boot partition and then subsequently restart the same instance using web service APIs.
Flexibility: Clients can choose from multiple instance types, operating systems, and software packages. Amazon EC2 allows clients to select configuration of memory, CPU, instance storage, and the boot partition size that will be optimal for their operating system and application.
Used with other Amazon Web Services: Amazon EC2 works in conjunction with Amazon Simple Storage Service (Amazon S3), Amazon SimpleDB and Amazon Simple Queue Service (Amazon SQS). It ensures a complete solution for computing, storage and query processing across a wide range of applications.
Alexa Rank:21
Google Page Rank:8
2. Microsoft Windows Azure

Microsoft's Windows Azure and SQL Azure cloud services represents a key milestone of Microsoft. Windows Azure and SQL Azure had been under development for several years. The Windows Azure Services Platform intends to be serious cloud computing platform for board range of developers and scenarios.
Microsoft Azure Services Platform is a Windows-like cloud computing architecture has four major parts
Windows Azure: Windows-based environment for running applications and storing data on servers in Microsoft datacenters
Microsoft .Net Services: Distributed infrastructure services
Microsoft SQL Services: Data services in the cloud based on SQL Server
Live Services: Access data from Microsoft's Live applications and others and allow synchronizing this data through Live Mesh.
Azure supports web roles and worker roles, a web role is like an ASP.Net site, while the worker role is a background process, such as the .Net-based services. The roles might be given multiple instances with each instance in a virtual machine under the control of Windows Azure Fabric. Azure tables tables are hierarchically organized entities with properties. They might be organized entities with properties that may be queried using LINQ syntax. The queues in Azure enable reliable communication between Web role instances and worker role instances.
Microsoft wants Azure to be seen as the preferred location for enterprise data and not as a business risk. Microsoft Appfabric Service Bus and Access Control were initially offered free. The company has released a comparison table of offers.
The Live Framework enables access to Live Services and to Live Mesh synchronization, using the Live Operating Environment.
We can by Microsoft analyst Rob Sanfilippo's words, that Azure is still "a fledgling platform". It will take large deployments and time to prove its scalability, stability and security.

Alexa rank: 19
Page rank: 7
3. Savvis
Savvis combines the best of both worlds, virtualization and cloud hosting. Savvis offers two features - a web portal that allows customers to provision their own virtual computing and storage capabilities on either private or shared resources. Moreover, the new shared virtual plstform allows enterprises to ramp up servers or storage capacity to deal with unexpected or seasonal peaks at a lower cost than dedicated resources. Savvis is targeting its cloud offerings at several vertical markets that include e-commerce vendors handling seasonal purchases, online marketing efforts tied to product launches, software developers testing new applications and software-as-a-service vendors ramping up their customer bases.
You might gain unprecedented control and flexibility over enterprise-class virtualized infrastructure without compromising security or performance. It reduces the capital expenditure and your IT risk by buying only the compute resources that you require. Savvis offers full scalability efficiently up and down as needed depending on your particular business cycle. It significantly boosts the server utilization rate. Delivers flexible IT infrastructure to meet the need from test and dev to highly available applications.  It reduces your data center space, heating and cooling and energy costs.
Savvis is set apart from other cloud computing operators implementation model that you are comfortable with, cloud computing before committing in earnest to this new services delivery model. Virtualized utility hosting across a more flexible and more reliable environment on demand.
According to Mark Griffith, Director of Operations Technology,
"Savvis provides us with the flexible solutions required to support our growing community of multinational clients. Savvis' managed hosting services offer a variety of software licensing options that greatly simplify the transition and management of our IT services"
ALexa rank: 75,795
Google Page rank: 5
4. GoogleApp Engine

This is a free setup that allows the users to run their web application on Google infrastructure. Google App Engine makes it easy to scale the traffic and data storage, as the need grows. Currently the App engine is restricted to Python but has plans to support more languages in future. This app engine requires no servers to maintain and the applications are instantly ready for user just after uploading.
It's key advantage is scalability of the applications. Google will host not only your code, but your data on their servers (based on Google's BigTable and GFS). It will do whatever Google does to scale up as needed, transparently and quickly.
The language will become quite popular for all sorts of development, but particularly also for web apps. There is a large number of Python web app framework available. Unlike Amazon's cloud computing platform that deals with virtual machines, Google download's SDK locally and then with one command upload the entire thing to their infrastructure. It is easy to download the Google SDK and develop the apps locally and then with one command you can upload the entire infrastructure.
Google App Engine for business provides these features
Centralized administration: This is a company-focused administration console that allows users to manage all the applications in domain
Reliability and support:  99.9% uptime service level agreement, with premium developer support available
Enterprise features: Coming later this year - hosted SQL databases, SSL on your company's domain for secure communications, and access to advanced Google services.
The downside to the service is that Google doesn't offer any kind of guarantee. Google is prone to occassional change its algorithms and mechanisms in a opaque and downright secretive manner. Everyone in the field of search engine optimization will know the story. Google tweaks their page ranking algorithm and suddenly your site appears below the fold.
Changing hosts is painful. When you API is Google bound switching becomes much higher, as users need to make changes to the source code.
Some Highlights
Datastore is schemaless
Built over Google's BigTable infrastructure
Appears like SQL, but don't be fooled. It is also crippled that you won't recognize it from two feet away
You can have Datastore generate keys for your entities, or you can assign it yourself. If you decide to create your own keys. It need to figure out how to build the keys in such a way that they don't collide with unintentional consequences
Creation of "uniqueness" index is not supported
Alexa Rank: 1
Google page rank: 7
5. VMware vCloud

VMware offers private as well as public cloud computing. The Private cloud computing has been designed to ensure security and compliance that the business demands by deploying a private cloud infrastructure inside your firewall. It is developed on the industry's most trusted virtualization platform - VMware vSphere. The infrastructure allows clients to virtualize all their assets in IT infrastructure and offer IT as a Service through policy-driven management that automates routine operational tasks and leads to efficiency and savings across the business.
The public cloud offers customers the freedom of open standards and interoperability of applications. VMware is a great choice for organization looking to expand IT capacity or migrate applications to the public cloud. A common management and infrastructure platform ensures visibility.
There is a common management and infrastructure platform to ensure visibility of pooled resources along with the elasticity to provide the highest service-levels for applications. Through VMware broad ecosystem of leading cloud services-levels.
In 2009 vCloud Express was launched at VMworld 2009 as a portal framework for cloud service providers (CSPs) to offer Infrastructure-as-a-Service (IaaS) to customers using VMware as the underlying infrastructure. It is an on-demand, pay as you go Infrastructure as a Service. The service provides on-demand infrastructure that ensures compatibility with internal VMware environments and with VMware Virtualized services.

Alexa rank:2,828
Google Page rank: 6
6. Rackspace
It demonstrates the agility hardly seen in the large hosting operations. Rackspace has moved in record time to set up shop in the cloud.
Demonstrating an agility seldom seen in such a large hosting operation, Rackspace has moved in record time to set up shop in the cloud. Consumers, already able to trust the hoster for traditional iron, have shown no compunctions about jumping in feet first. Open for less than a year, Rackspace's cloud customer count already rivals Amazon's and it's rapidly picking up converts tired of the robotic nature of AWS. Hey, some of us still like talking to real humans.
According to Erik Suppiger, Signal Hill Analyst, Dow Jones Newswires "Rackspace's platform business that lets companies build web applications on "Rackspace hardware, is 60% larger than Google's "
Alexa rank: 3, 722
Google page rank: 7
7. Verizon
Verizon has teamed up Novell to provide cloud-based identity and access management to help companies in outsourcing their applications to the cloud. The companies claims that the move will expedite cloud computing without compromising security. The companies claims that the move will expedite cloud computing without compromising security. Verizon offers security expertise, infrastructure, management capabilities, and portal for Secure Access Services.
Verizon offers identity-as-a-service as the first wave of cloud based products that the company delivers. Their service is particularly targeted at organizations that need to automate access control for their extended partner or supply chain networks.
Verizon Business scatters the clouds to reveal an enterprise-ready on-demand computing platform with Computing as a Service (CaaS).
Alexa rank: 69,931
Page Rank: 3
8. GoGrid
GoGrid offers  "point-and-click infrastructure" and its ease of use makes it popular. It is first of its kind multi-tier, cloud computing platform allows users to manage the cloud hosting infrastructure completely on demand through an intuitive, web interface. GoGrid is a division of ServePath Dedicated Hosting that has extensive expertise and experience in web hosting infrastructure. GoGrid, the first multi-tier, cloud computing platform that allows you to manage your cloud hosting infrastructure completely on demand through an intuitive, web interface.
Key features
Standard Windows and Linux Cloud Servers
Add Dedicated Servers to your GoGrid VLAN
Create, Save, and Deploy Custom Server Images
Scale Up or Down as Needed, in Real-Time
An user review  provided by Ore Nuga, Senior Analyst, Intersect Digital reads
"It is a pretty neat solution. The performance is the same as dedicated servers, I can't tell that most of the servers are virtual. And it is much more cost effective for a system that is only used a lot on a couple of days each month.'
Alexa Rank:9,082
Google Page Rank: 3
9. Force.com
This cloud computing framework by salesforce.com - Force.com provides one of the fastest platforms for building and deploying enterprise application. It provides resources for building core business applications on demand such as enterprise resource planning (ERP), human resource management (HRM) and supply chain management (SCM).
The Force.com apps run on world-class data centers with backup, failover, and disaster-recovery facilities. They claim to offer real-time scalability for applications that can be automatically scaled from a few users to millions of page views. The Metadata API can be used by developers to create and manage the code and metadata that the application are build with by providing access to Salesforce.com.
It steadily reduces the subscription fees in favor of pay-as-you. It offers a customer relationship management service that is rapidly approaching bargain-basement cloud expectations.
Alexa rank: 367
Google Page rank:5
10. AppNexus
This cloud computing set up takes just 30 minutes to reserve.  With AppNexus the user can launch a several operating system, run a variety of applications, load balance these applications and store huge amount of secure data.
Alexa rank: 183,378
Page rank:5