Top 10 Shared Web Hosting Providers
By Partho, Gaea News Network
Wednesday, April 28, 2010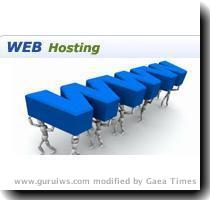 more images
Shared web hosting has been increasingly used by small and medium enterprises to establish their online presence at minimal budget. Shared hosting is economical, easy to manage and configure. Most of the small businesses, especially the start ups would never like to invest money on expensive dedicated server. This is the reason why, shared web servers are increasingly growing in demand. A typical shared hosting account offers features such as a file manager, email accounts, WebMail, email forwarding and autoresponders, FTP access, password-protected directories, database, Server Side Includes and site statistics. Selecting the right shared web hosting provider requires a close look into several factors. After an extensive research we assorted the top 10 shared web hosting provider.
1. Justhost.com
Just Host offers two Unix-based hosting plans - JustPlan and JustPlan Premium. JustHost charges incredibly low priced web hosting provider, as compared to the unlimited resources they offer. They allow unlimited disk space, unlimited bandwidth, unlimited email accounts and the ability to host unlimited domains from 1 account. Both the packages include POP3 and IMAP email, SMTP for outgoing email, Sendmail/Exim access, unlimited email accounts, autoresponders, email forwarding, SpamAssassin, integrated email organizer, WebMail, FTP access, cPanel control panel, site builder, online form builder, unlimited MySQL databases, phpMyAdmin, password-protected directories and much more. They also offer a long list of features like click installs of important software such as WordPress, fantasico, Joomla plus cPanel and a choice of 2 site builders.
Key features of Just Host
Unlimited GB's of Space
Unlimited GB's of Transfer
Unlimited Domain Hosting
Unlimited E-Mail Accounts
Unlimited MySQL Databases
FREE Site Builder
FREE Domain for Life
FREE Instant Setup
Anytime Money Back Guarantee
Price
Starting plan at $3.95/mo
2. iPage
They has only a single hosting plan called Essential Plan that is a shared plan. With strong hosting security and reasonable price, iPage is one of the most secured web host. iPage's shared web hosting is best for blogs, forums, ecommerce & small to medium-sized websites. SiteLock Security Suite comes free along with the hosting package, which has been designed to prevents stop possible hacking and spamming activities. Apart from the SiteLock Security Suite, iPage has their subscriber in mind that they also provide extra add on service to your website. The shared web hosting service package also includes suites for Marketing, Support and Design. Since iPage offers unlimited hosting, you can have infinite resources.
Key features
Best Security Hosting - Come with SiteLock Security
Free Domain Name, Unlimited Storage, Bandwidth& Add-on Domains
More than 100 free website templates
Price
iPage comes with Anytime Money-Back Guarantee. All these comes at a price tag of $3.50/mo regardless of the subscription period.
3. FatCow
It's a shared web hosting service for small and medium business websites, individual and give home to forum, blogs and cms website.  Fatcow's hosting provides green web hosting company with unlimited storage and bandwidth, unlimited mysql database, unlimited domain hosting, free website builder, ecommerce ready and blog ready, and much more. It has an up to date script library with popular scripts (wordpress, joomla, drupal, phpbb, b2evolution, SMF, etc) and integrated Google Webmasters tool. FatCow guarantees 99.9% server and network uptime, 24/7 online support via phone, live chat and tickets and 30 days money back guarantee
Key Features
Unlimited storage space, Unlimited data transfer bandwidth.
24/7 fatcow support, phone support, live chat support, email support.
Free domain for life & free setup. 30 days money back guarantee.
Unlimited Emails, unlimited FTP, unlimited MySQL database.
Recommended for ecommerce, blog, forum, cms, gallery, joomla, etc.
$75 dollars free marketing credits.                                                                                                                                                                                                Search
Price
The complete hosting solution is available for $3.67/mo
4. Web Hosting Pad
Web hosting pad is a comprehensive and reliable shared web hosting service. The service offers unlimited disk space and bandwidth, unlimited emails, unlimited database and low monthly price of just $1.99/mo(3 years). What sets apart Web Hosting Pad is the Cpanel Control Panel that features webmail, customizable error pages, web file manager, spam protection and log files and site stats. The web hosting service uses latest version of Cpanel that has a lot of sophisticated add-ons including a website builder tool. The tool includes holds a set of Royalty Free Images - more than the average site building software. They also provide Fantastico Control Panel software suite which offers numerous scripts and software for web hosting.
Price
Webhostingpad has the following price options
$3.95/mo. (1 Year)
$2.95/mo. (2 Years)
$1.99/mo. (3 Years)
$1.99/mo. (4 Years)
5. IX web hosting
The shared web hosting service offers Linux as well as Windows based hosting. It offers three plans  - Expert, Business Plus and Unlimited Pro. IX web hosting includes unlimited disk space, unlimited bandwidth, unlimited number of domains per account and unlimited sub-domains. The service also features WebMail, email forwarding, mailbox aliases, autoresponders, mailing lists, cgi-bin, phpMyAdmin, phpPgAdmin, shared SSL and scripts for Weblogs, message forums, photo galleries, online shops, live chat, Web portals and content management. They support PHP 5, Perl, cgi, Javascript/DHTML,  MIDI files, streaming audio, Server Side Includes, .htaccess (Unix/Linux plans only), FrontPage 2000/2002 extensions, Flash, Shockwave, streaming video, RealAudio and RealVideo. Set up a professional-looking site quickly without the hassle or cost of learning new design software or hiring a designer.
In the expert package you will receive one free domain registration, a dedicated IP address and up to 2500 email accounts with a mailbox quota for 5GB.
The Business Plan features two free domain  registration, up to eight dedicated IP address and up to 5000 email accounts with a mailbox quota of 5GB.
The Unlimited Pro package, customers get three free domain registration, unlimited email accounts with a mailbox quota of 10 gigabytes and unlimited MySQL and PostgreSQL databasesand 16 dedicated IP addresses.
Price
Starting plan at $3.95
6. StableHost
As the name suggests, Stablehost.com offers stable web hosting. They have three packages  - Stable Basic, the Stable, and the Stable Plus. The Basic plan charges $3.95/mo and offers 20 GB of bandwidth, 1 GB of storage space, but doesn't have a free domain for life. The Stable plan allows 100 GB bandwidth and 5GB storage space and a free domain for life. The Plus package is priced at $7.95 300GB bandwidth, 15GB storage space and a domain. This is as far as the differences in these packages go. Each package will offer free setup, free site transfer and cPanel services with no contracts meaning it is all pre-paid and obligation free.
They offer services like 40 gigabytes of storage, 300 gigabytes in transfer space, round the clock support, and free domain for life and a cPanel to manage the site and directories StableHost also provides  free email accounts, free forwards, free auto-responders, virus, and spam filtering and a host of developer features such as the MySQL 5, Server Side includes and free Peri Module Installation.
Price
Starting plat at $3.95/mo
7. Mochahost
It's a popular shared web hosting provider for small business.They are fast, reliable and offer affordable rates than many of the other web companies. Mochahost allows 6 months of free hosting, along with unlimited sites, space and bandwidth. The service allows clients to select from more than 500+ Website Templates which come free with our free Site Builder.
unlimited e-mail accounts
web based e-mail access
easy to use control panel (cPanel)
online backups
Linux & Windows architecture
PHP/ASP.NET/Perl/Python/Ruby/JSP
MySQL/MS SQL/MS Access/PostgreSQL
detailed reports & statistics
$50+ Google/Yahoo PPC credits
50+ free one-click install tools
24/7 award winning support
Price
Starting Plan at $2.63 /month
8. HostCabin.com
Unlike most cheap web hosting resellers, HostCabin is a true hosting provider with its own hardware, which they manage and maintain. HostCabin is one of the cheapest web hosting providers. It offers a basic web hosting plan that is completely free with no ads at all.
Key features
Green Energy Server
Easy-to-use control panel
Fast Reliable Server
Private Label DNS
Unlimited Domains
Fantastico Auto Installer
PHP & MYSQL Support
Reliable Remote Backups
Price
Starting plan at $1.95
9. GlowHost
They have two hosting plans - Professional 3 star shared web hosting and Unlimited Domain shared web hosting. Shared Web site hosting packages are ideal for small to medium-sized business and high-traffic personal sites that require most reliable web presence available in a shared hosting environment. Their shared web hosting packages come with  the highest possible uptime guarantee, and include some best-of-business features.
Key features
Free domain name registration
Fantastico script auto-installer
cPanel Control Panel
Business Class Email Services
Complimentary virus and spam scanning services
Complimentary nightly and weekly backup service
Price
Starting Plan at $6.99
10. myhosting
This shared web hosting service offers personal or business website online and manage with ease.  It is a unique breed of web browsing powered by onCloud automation platform. MyHosting is the best shared web hosting service with plans starting as low as $4.84/mo, free domain name and other cool features.
Unlimited Hosting Space
Unlimited File Transfer
Unlimited Domain Hosting
Free Domain Name
Free Outlook Email
Price
Starting plan at $4.84/mo