Most Popular Features of iOS 4.2 Reviewed
By Avik, Gaea News Network
Tuesday, November 23, 2010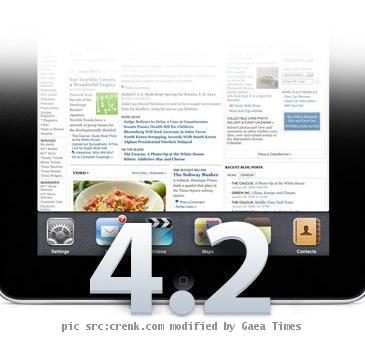 more images
After the long queue of lingering developer updates, that kept us waiting as to when the actually thing is gonna come up, finally the iOS 4.2 has hit the streets and this time for good. Reportedly this installment of iOS flaunts none less than 100 well-documented features. Well, what Apple claims is that to add to it all they have addressed 40 security issues in this update.
Graham Cluley, Senior Technology Consultant at Sophos stated,
It's critical that users of Apple's popular gadgets update their operating system as soon as possible, Fixes included in the iOS 4.2 update include patches for the web browser. Without these, users could be at risk when they visit booby-trapped websites — code embedded on the website could cause iOS applications to crash, or even plant and run malicious code on the device.
Come now, we have got hold of the most popular features of the iOS 4.2 right here. Have a look for yourself.
iOS 4.2 is up with multitasking so that you don't have to wait any longer. Well, that's definitely efficient use of time providing more functionality simultaneously.
Now you can arrange you messed up phone screen by getting them to fit into appropriate folders creating more space for you to move around and it's as simple as drag and drop.
This one is addresses some technical issues, AirPrint will address your query on printing all your emails, photos, web pages, and documents right from your iPhone, iPad, or iPod touch. Making it altogether pretty simple with no drivers or cables.
This one enables you to stream digital media wirelessly from your iPhone, iPad, and iPod touch to your Apple TV and AirPlay-enabled speakers. So now you do have the liberty to watch movies and photos on your widescreen TV and play music through the best speakers in the house.
Well, well this happens to be pretty much interesting, though not a very handy one in the sense you wont much want to use this very often. But then suppose your phone gets misplaced and you're afraid of somebody getting important info out of it. Don't worry this feature enables to remotely locate your phone and delete all your data until you get it back and restore it back with the last back-up. All you need is to previously set-up your phone and add-on a password to it. Oh, and don't forget to take a back up.
More features available in iOS 4.2

Game Center
Be more social with your gaming. Find friends or use auto-match to play multiplayer games against new opponents. Track achievements and compare high scores.

iTunes TV show rentals
Rent TV shows commercial free in HD for just 99 an episode and start watching them in minutes.

Even better Mail
See messages from all your accounts in a unified inbox, organize messages by threads, and open attachments in third-party apps.

Find text on webpages
In Safari, you can do a quick text search to find and highlight specific words and phrases on even the longest web pages.

Notes with fonts
Customize your notes using different fonts Marker Felt, Helvetica, and Chalkboard.

Reply to calendar invitations
Reply to event invitations from friends using calendar services like Yahoo!, Google, and Microsoft Exchange right from the built-in Calendar app.

Keyboard and dictionary enhancements
iOS 4.2 includes support for over 50 languages and dialects, with more than 30 new international keyboards and dictionaries for iPad.

Accessibility enhancements
Control VoiceOver using a wireless keyboard. Output in brailleto over 30supportedwireless Bluetooth refreshable braille displays in more than 25 languages.

Enhanced enterprise support
Businesses can take advantage of stronger security features, new device management capabilities, and improved enterprise integration.

Messaging with texttones
Know who's texting without looking at your screen. Choose from 17 new alerts and assign custom tones for people in your contact list.
iPhone only.
iOS 4.2 is compatible with these devices: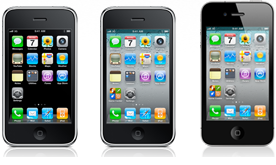 iPhone 3G
iPhone 3GS
iPhone 4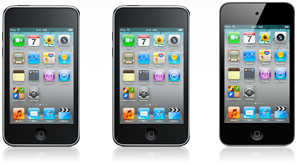 iPod touch 2ndgeneration
iPod touch 3rdgeneration
iPod touch 4thgeneration