Fring Video Chat In iPhone 4
By Ipsit, Gaea News Network
Friday, July 9, 2010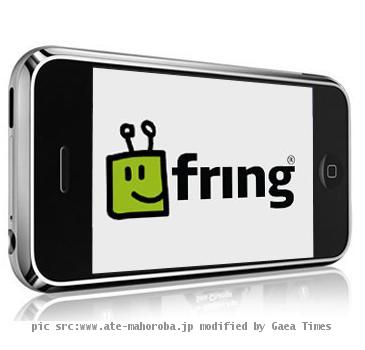 NEW YORK (GaeaTimes.com)- iPhone 4 might be in the muddy waters of criticism but that is seemingly no block for innovation to proser. Fring has just received the approval from Apple for a cross platform video chatting service that shall be enabled on iPhone4 in a few days. Fring happens to be a peer-to-peer Mobile VoIP (Voice-Over-Internet Protocol) based internet telephony network which shall allow two-way video conversations.
Fring shall offer a chance to all users who shall be able to conduct video conversations between their devices using the forward facing cameras. Fring internet telephony service shall function to allow a iPhone 3GS device to take part in a video conversation in spite of the fact that they have only one camera. Fring is already available over 3Gs although it's no match to FaceTime. Anyone using a iPhone 3G shall have to deal with the poor image quality and unsatisfactory sound output even though you use a Wi-fi.
The conversations in Fring is generally held over the speaker phone but you have to hold it real close to your ears owing to low sound output. In case of FaceTime, it employs more bandwidth and hence offers better sound quality as compared to Fring. Early users have reported that the option for making video calls are sometimes inconsistent and vanishes when you are scrolling down your friends list. In any Android device, Fring shall allow the video conversation only in landscape mode whereas in iPhone 4 it works well in portrait mode. With Fring in the picture, mobile video chat is bound to rise beyond one commonly accepted platform used in high end mobile devices.