Nokia says Q2 and full-year result will be worse than expected due to high-end competition
By AP
Wednesday, June 16, 2010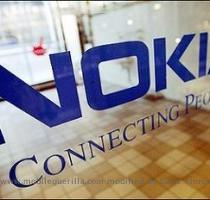 more images
Nokia gives Q2 profit warning
HELSINKI — Nokia Corp. warned Wednesday that its earnings this year will be hit by tough competition from rivals in the smart phone market. The news sent its stock down 9 percent.
The world's largest mobile phone maker said competition "particularly at the high-end of the market" would force net sales in the current period to be "at the lower end of, or slightly below, its previously expected range of euro6.7 billion to euro7.2 billion ($8.2 billion to 8.8 billion)."
Nokia also said its operating margin in the period would be at the low end or below its previous prediction of 9 to 12 percent.
The company's share price plummeted, closing down 8.9 percent at euro7.21 ($8.85) on the Helsinki Stock Exchange.
Nokia stock has continued a downward trend since it fell 14 percent on the April 21 release of its first-quarter earnings report, as the company is seen as losing out against competition.
While it is still a global leader in smart phones, it's struggling to compete in the expensive segment with rivals such as iPhone-maker Apple Inc. and Research in Motion Ltd., which makes BlackBerry handsets.
Last month, CEO Olli-Pekka Kallasvuo conceded that the Finland-based firm lacks a high-end smart phone, adding that it has "plenty of work to do" to keep up with the competition.
"The competition has steadily become tougher and the company has had to drop handset prices so that it can somehow stay in the competition for market share," said Michael Schroeder, analyst at FIM Bank.
"Companies like Apple with its IPhone, and in the past few months devices have streamed into the market that use Google's Android operating software," Schroeder said. "All of Nokia's traditional competitors such as Samsung, LG, Motorola and Sony-Ericsson and so on — all except Nokia, really — have brought out such devices and they are eating away at Nokia's share."
Nokia said that it had not changed its expectations of flat volume growth for the full year while overall market growth was expected to be 10 percent on 2009.
But it added that it now expects the value of its own handset market share to be "slightly lower in 2010, compared to 2009," when earlier it had predicted slight growth.
Nokia is due to publish its second-quarter earnings report on July 22.
_____
Online:
www.nokia.com