Power Widget Plus A Custom made Device For the Android Control Freak
By Shaon, Gaea News Network
Monday, December 13, 2010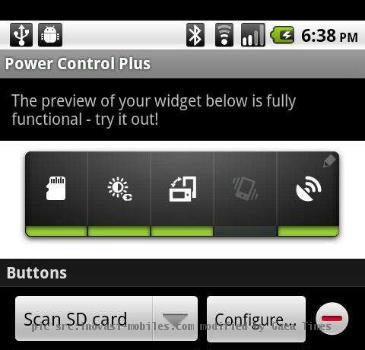 more images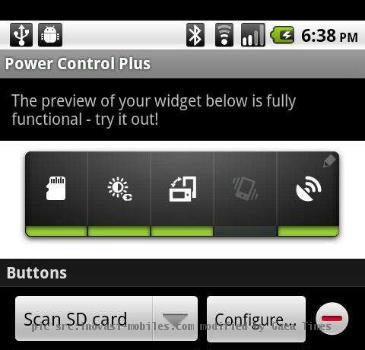 more images
If you are the kind of the person who would like have control over everything on your home screen we would have to recommend the Power Widget Plus. This is quite a tool for the control freak Android user in You.
The widget adds many user settings right on your home screen like Wi-Fi, brightness, Bluetooth, but also adds things like a battery indicator, LED flashlight, haptic feedback, tethering, and even input method. The input method enables the user to change the keyboard with just a tap. The widget may be arranged as per the user's convenience.
The Power Control widget fan will feel right at home with this nifty tool. The list of compatible settings are
* Wi-Fi
Toggle: turn Wi-Fi on and off
* Airplane mode
Toggle: turn airplane mode on and off
* Flashlight (Android 2.2+)
Toggle: use your camera\'s flash as a flashlight
* Bluetooth
Toggle: turn Bluetooth on and off
* 4G (WiMAX)
Toggle: turn WiMAX on and off
* GPS
Toggle: turn GPS on and off
* Cellular data connection (GSM phones only)
Toggle: turn your cellular data connection on and off (by renaming APNs). Only use this if the other data connection toggle does not work.
* Silent mode
Toggle: turn silent mode on and off
* Auto-rotate screen
Toggle: turn automatic screen rotation on and off
* Vibrate mode
Toggle: turn vibrate mode on and off
* Vibrate and silent mode
Toggle: rotates between normal -> vibrate -> silent mode
* Bluetooth scan for devices
Toggle: scan for Bluetooth devices
* Brightness
Toggle: control the brightness of the display
* Brightness (triple)
Toggle: same as the Brightness toggle, but rotates through 3 different brightness settings instead of just 2
* Screen timeout
The widget retails for $1.99 download for Android devices.