Steve Jobs calls out Adobe Flash and Google at D8 Day
By Jayita, Gaea News Network
Wednesday, June 2, 2010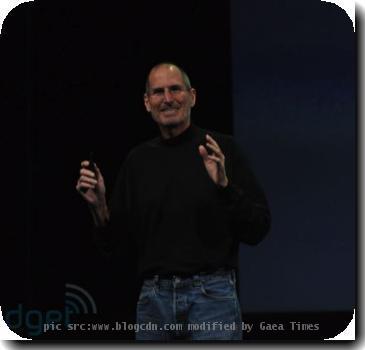 more images
CALIFORNIA (GaeaTimes.com) — At the opening day of D8 conference on June 1, Apple CEO Steve Jobs made one thing clear that Apple is not going to start war against its opposition. A long discussion that was much on Adobe Flash, prototype iPhone 4G and Google, quenched the thirst of the audience as they got to know many untold stories from the tech luminary.
Why Resisting Adobe Flash
Steve Jobs, being the stellar speaker of the conference delivered his speech candidly. While asked about excluding Adobe Flash from iPhone OS, Jobs replied,
We didn't start off to have a war with Flash, we just made a technical decision that we weren't going to put the energy in to getting Flash on our platform.
Apple is a company that doesn't have the resources that everyone else has. We choose what tech horses to ride, we look for tech that has a future and is headed up. Different pieces of tech go in cycles; they have summer and then they go to the grave. If you choose wisely, you save yourself an enormous amount of work
,Jobs told Walt Mossberg and Kara Swisher of of The Wall Street Journal.
Apple Supports HTML5
Jobs was with the view that once Flash had a great time but now it seems waning and HTML5 is making its way.
We support HTML 5. We have the best support for HTML 5 of anyone in the world. We then support a curated platform, which is the App Store
, he iterated.
Apple not removing Google from iPhone
A rumor is going around that Apple will include search to its portfolio. The speculation went high soon after Apple purchased Siri, the maker of a mobile personal assistant application for the iPhone. The move was characterized as a footstep to compete with Google. But in the D8, Job declined any rivalry with Google by saying
It's not something we care deeply about
, he said.
We're not going into search.
To the query of Kara Swisher, whether Apple would remove Google from the iPhone and iPad, Jobs strictly responded "no".