Steve Jobs on D8 floor: Roundup
By Partho, Gaea News Network
Wednesday, June 2, 2010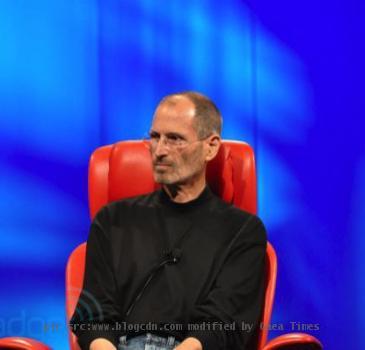 more images
The opening day at All Things Digital Conference, D8  had some scintillating moments with Apple CEO Steve Jobs on the floor interviewed by Walt Mossberg and Kara Swisher of Wall Street Journal. The tech-legend shared a part of his philosophy and loads of unanticipated information. There were overt discussions about Apple's products, its market position, brawl with competitors and some behind-the-scene story on iPad and iPhone.  We assembled the roundup of some of the most interesting facts and revelation during the session.
The D8 all things conference Apple CEO Steve Jobs covered a wide range of topics
Apple Vs  Google
Jobs had apt answer for the brands competing with Google and Adobe
Apple isn't trying to wage a war on everyone. Instead, while the company focuses on building great products, everyone else is trying to start a fight with Apple.
Jobs discussed Apple's relationship with Google that has become competitive over the last year, especially the smart phones.  He says "They decided to compete with us and get more and more serious." Of course, Apple won't be removing Google from iPhone and iPad. However, Apple is not interested in building its own search product. Talking on Apple's move to take over Siri, he said it was not in a bid to venture into search business.
Jobs spoke about their competition with Google in several areas, especially in the smart phone arena.
Just like Google, Apple is planning to venture into mobile ad business. We are going into ad business since we want to help the developers make some money. We were not going to make money in the ad business.
Apple Vs Adobe
We had already discussed how Apple had been encouraging a Flash-free era.   Steve Jobs in D8 made it clear the air over war with Flash. He said the company wasn't interested in starting a war when it chose not to include Adobe Flash in the mobile devices.
As the Apple CEO said, "We didn't start off with a war with Flash," It was a technical decision on Apple's part not to put the energy into getting Flash on their platform.
As Jobs revealed that once Apple shipped the iPhone without Flash and it wasn't until the iPad and Adobe "raised a stink about it"
He accused Adobe of waging a war against Apple in press. Adobe had no issues after the release of iPhone, but Steve Jobs in his Thoughts on Flash delves into the intricacies of the software.
We got the rid of the floppy altogather in the first Mac. Apple also banned the serial and parallel ports. Users might see the USB first in iMacs. They were one of the first to get rid of optical drives with MacBookAir. As Apple justifies, it's all about picking the right horses.
The last verdict from Steve Jobs was "Flash looks like a technology that had its day and HTML5 looks like the technology that is really on the ascendency right now."
iPhone prototype theft
Clarifying the issue on prototype iPhone lost in a bar by an Apple employee sold to Gizmodo, he said the it's now a legal case under investigation by San Mateo, CA prosecutors. However, Jobs made no distinct commentary, but interpreted the incident as a case of theft. He said "It's got theft. It's got buying stolen property."
iPad Concept
Out of the heaps of revelation, Steve Jobs made an interesting exposition, the concept of iPad came before iPhone. According to Jobs
I had this idea about having a glass display, a multitouch display you could type on. I asked our people about it. And six months later they came back with this amazing display. And I gave it to one of our really brilliant UI guys. He then got inertial scrolling working and some other things, and I thought, 'my god, we can build a phone with this' and we put the tablet aside, and we went to work on the phone.
Advantage of multi-carrier US iPhone
Apple CEO admitted at D8 that having more than one carrier for iPhone in U.S will always be an advantage, but dropped no hints that such a move could be expected anytime sooner. Jobs argues that although AT&T deals with way more data traffic than any other carrier, they boast of the fastest 3G network and continue to improve.
Openness of iPhone platform
Apple supports two platforms open and uncontrolled which are HTML5. It supports the HTML5 that is the best support for anyone in the world. We supported the curated platform that is the App Store. It is one of the most vital app communities on any platform.
What the Apple CEO does in his Company
An off-the-record question for Steve Jobs was his daily course at Cupertino. For even more fleecy answer you read his answer.  One of the keys to Apple is that Apple is an incredibly collaborative company. You know how many committees we have at Apple? Zero. We're organized like a startup. We're the biggest start up on the planet. We meet for three hours every morning and talk about all the business, about what's going on everywhere. We're great at figuring out how to divide things up into great teams, and we talk to each other. So what I do all day is meet with teams of people.
About Apple's plans for the next 10 years
Exemplifying the iPhone Prototype case with Gizmodo, Jobs said he cannot compromise with the core values of the company and let it slide. He won't do that, he'd better quit.
He let out his feeling with these words
You go back 5 or 10 years, what would you do… we're not going into that… we have the same values that we had back then. The core values are the same. We come into work wanting to do the same thing that we did back then — build the best products. Nothing makes my day more than getting a random email from someone talking about how cool the iPad is. That's what keeps me going. That's what kept me going back then, and now, and will keep me going in the future.