Dell XPS M1710 Laptop Rocks Mobile Gaming World
By Angsuman Chakraborty, Gaea News Network
Wednesday, April 19, 2006
It is arguably the fastest mobile gaming machine with Intel dual core processor and nVidia GeForce Go 7900 GTX.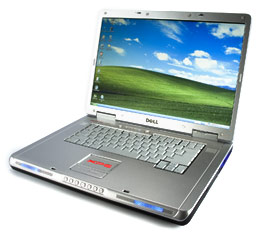 Specifications:
Operating System: MS Windows XP Media Center
Processor Name: Intel Core Duo T2600
Processor Speed: 2.16 GHz
RAM: 2048 MB
Hard Drive Capacity: 100 GB
Graphics: nVidia GeForce Go 7900GTX
Primary Optical Drive: DVD+R DL
Wireless: 802.11a/g
Screen Size: 17 inches
Screen Size Type: widescreen
System Weight: 8.8 lbs
Price: 2558-2902-3474 (base configurations) from Dell Direct
XPS M1710 is equipped with six grills, lacing the laptop's edges, that light up in a myriad of user-definable colors. You can customize the LED lights to match the XPS's red color or choose from among the 15 other colors available through Dell's Quickset software interface. Either way, gaming in the dark will never be the same. The system's TrueLife 17-inch high-contrast widescreen display is a joy to behold, bringing life to games and providing bright and lovely movie images. Thanks to its powerful graphics subsystem, the laptop can handle the screen being cranked all the way up to 1,920-by-1,200, its native resolution. You won't miss a single detail at this level.

You still get the white-glove customer service experience that Dell's XPS line is known for. For example, you'll have the same salesperson at your disposal throughout the life of the warranty, plus an MCP (Microsoft Certified Professional) qualified support staff if things get really hairy. You also receive a 30-day trial subscription to Dell's On-Call support, a fee-based extension of Dell's hardware-only warranty; this service helps users troubleshoot anything from spyware problems to setting up a home network. (It's figured into the price.)

It's the first gaming notebook to arrive in PC Magazine Labs that's built with nVidia's GeForce Go 7900 GTX, by far the most powerful mobile graphics chipset available. Benefiting from this screaming 3D subsystem, my M1710M test system beat the XPS M170 by 12 percent on 3DMark 2005 and by 23 percent on our Doom 3 benchmark tests. Thanks to a muscular Intel Core Duo processor (T2600), 2GB of RAM, and a 7,200-rpm hard drive, the laptop soundly trounced all of its close competitors on our SYSmark 2004 SE tests. It was 66 percent faster than the M170 on Internet Content Creation and 59 percent faster on Office Productivity.
via PCMag
Is it a bad machine or what?