Gmail Account Being Upgraded?
By Reema, Gaea News Network
Monday, August 2, 2010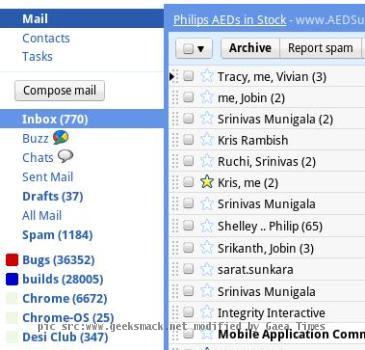 more images
SAN FRANCISCO (GaeaTimes.com)- It seems that Google is on its way to revamp its Gmail account services. Although the company has not announced anything in this matter officially, a leaked screenshot of the internal version of the Gmail services used by its employees have pointed out a lot of differences from the current Gmail services of Google. The screenshot that was taken from Chromium OS bug tracker and was originally intended to point at a bug that exists within Google Chromium Operating service, has turned the attention of geeks towards the latest version of Gmail that is being used by the company's employees.
As per sources, the Google employees are the first to use any version of the company's services which it wants to introduce in the market. It is based on the feedback of its employees that the services are improved or modified to suit the best interest of the users. The changes that have been marked in the new Gmail account version are mostly design and navigational changes. However, all these are good changes that are being welcomed by Gmail account users.
The most notable change in the yet-to-be introduced Gmail version is that the "mail", "contact" and "task" bars are separate tabs and have been shifted to the top left of the screenshot. While the compose link button is a text link in the existing format, in the leaked format the "compose mail" has been changed to a new button. Towards the bottom of the screenshot, under the chat heading one can see a "call phone" option which is a whole new feature that might put to use Google Voice technology.