Benefits and Drawbacks of Facebook Mail Listed
By Mayuri, Gaea News Network
Monday, November 22, 2010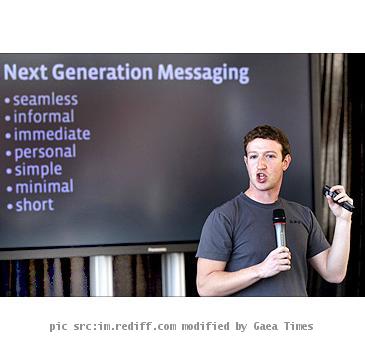 more images
Last week a new messaging service was introduced by the Facebook CEO Mark Zuckerberg along with the aid of chief engineer Andrew Bosworth that is set to strike a hard blow to the e-mail services. The new and modern messaging system by Facebook promises to shun people's favor of doing emails.
With the popularity of Facebook across the globe people are already refraining from the habit of doing mails. Instead they are preferring instant messages and sending messages via Facebook. The new idea from the house of Facebook integrates e-mail, chat messages, some text messages and Facebook messages in a single mailbox that you can access on the service or through your existing e-mail inbox.
Benefits
You will be given a mail address that ends in @facebook.com and using it you can send emails and receive mails in the messaging area of your Facebook account.
You can configure your Facebook mail account whereby you can redirect a copy of your mails to other mail account.
Good news is that Facebook is planning not to display any advertising content in the messages unlike Gmail messages.
There is no need to check multiple sources for messages.
The messages sent by the people who have lower priority on your priority list than your Facebook friends can be controlled easily and you can also control spam messages.
Drawbacks
Obviously there are some drawbacks in Facebook mail.
Bad news for business men who always exchange a lot of e-mail between colleagues, is that all your conversations with each person are consolidated into a single stream or thread. This feature might be liked by lovers.
Another problem you might face that the inbox is not consolidated that means you cannot access all your text messages in a simple manner.
My question to all of you now will this new Facebook mailing service decline the usage of emails? Can the modern world be out of e-mails?