Macbook vs Windows Laptop Experiences
By angsuman, Gaea News Network
Sunday, March 14, 2010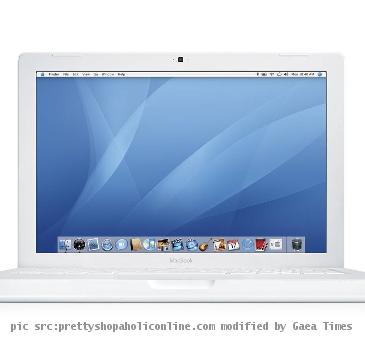 I have  used Windows based laptops since the dawn of time (or laptops) till couple of days ago when I finally decided to spend 1000 bucks for a Macbook white. Here are my experiences with Macbook (vis-a-vis Windows Vista laptop from HP with similar CPU and memory) so far which I hope helps you to make a choice.
No touch screen
My HP laptop has a touch screen which allows me to use it like iPad by rotating the display and placing it over the keyboard.
The touch screen also allows me to scribble notes directly on the screen which is managed excellently by Microsoft's One Note software. One Note is a brilliant piece of software from the house of Microsoft.
Score +2 for HP and Windows Vista.
Fingerprint scanning
I can log in my HP using fingerprint scanning technology which is not only very slick but also offer better protection, simplicity and takes away the requirement to remember password. Your computer data is better protected against theft.
HP laptop is way more hot, in the wrong way
As opposed to cool factor, I am talking about real temperature here. The HP laptop throws out serious heat and sometimes even shuts down due to overheating. While I cannot make an Apple-to-Apple comparison here as the HP showed this problem which being used in India whereas I have used macbook so far in Texas which has pretty cool climate at this time of the year, I think heat-factor is lower on Macbook.
Macbook white looks way cooler…
I rarely use coolness as a factor in evaluating but in this case the slimness and color choice simply makes it stand apart from the crowd of Windows based laptops.
Mac OS X is FreeBSD inside which is like Linux
The FreeBSD core provides enormous power under the hood which any Linux power user is accustomed to and can feel at home with Mac. This is probably the best reason why so many developer at any conference is found with a Macbook.
Nice design touches - Magnet, wide palm rest
Magnet is used to firmly attach the power adapter with the Macbook. The case also uses magnet to hold the lid close.
Wide palm rest is provided which makes for comfortable typing even in uncomfortable positions.
Superb WiFi integration
Macbook automatically identifies the best connection and uses it often without requiring any user intervention. It simply gets the job done. I could seamless switch from wired network to WiFi without blinking a bit.
Awesome multimedia
Apple is league ahead of Windows in multimedia support, be it video chat or recording Audio / Video / Movie.
Multitouch keyboard
It takes some time to get used to multitouch but then it is a real pleasure to use and very handy. You won't miss the lack of visible mouse buttons.
Overall I am very satisfied with Macbook so far. However only time will tell if this satisfaction lasts.