Skype is Down and Out 68 Million Users in Lurch
By Shaon, Gaea News Network
Wednesday, December 22, 2010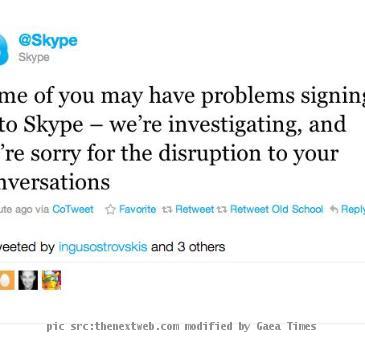 more images
Skype, the popular Internet based call service is currently down. The problem was discovered this morning and is now impacting millions of users. According to the only official word from Skype (posted Above) it apologizes for the service disruption.
Skype has long been the economic backbone of startups and small businesses who regularly use it for client interaction. The peer to peer network that Skype implements is almost fail proof but the reported "deficiency in algorithm" might mean that the 560 million registered users might just be out of luck.
More updates are expected from Skypes side by its twitter account. Its ironic enough that the last tweet before the above outage states
Eat, drink, be merry and call friends and family with Skype's one month of free calling. https://bit.ly/haD0at
More like 29 days of free calling if you ask me.