Summary Box: Oracle's income jumps 20 percent as businesses buy more software
By AP
Thursday, September 16, 2010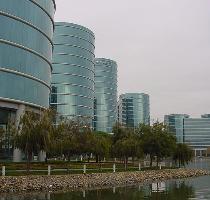 Summary Box: Oracle's net swells 20 pct
OPENING UP ORACLE: Oracle Corp.'s net income swelled 20 percent as the world's biggest maker of database software prospered from freer technology spending by corporations.
SOAP-OPERA STAR: Oracle's results come as the company finds itself in a starring role in Silicon Valley's latest soap opera with the hiring of Mark Hurd, the ousted chief of Hewlett-Packard Co.
NEW SOFTWARE SOARS: Oracle sold $1.3 billion worth of new software licenses in the latest quarter, up 25 percent from last year. That figure signals how much Oracle will earn in the future from support contracts.