Veoh Bought By Qlipso
By Sayantika Ghosh, Gaea News Network
Tuesday, April 13, 2010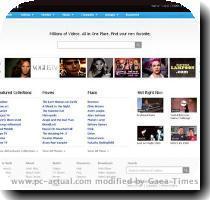 JERUSALEM, ISRAEL (GaeaTimes.com) - Qlipso, which happens to be an Internet startup company based out of Israel is said to have brought some major assets of
Veoh
.
Veoh
is an online video sharing service that has all its users sharing the videos in accordance to the real time sharing platform. The deal which Qlipso settled with
Veoh
had its major investors shelling out $70 million for the company which had its inception way back in the year of 2005.
Jon Goodman who happens to be the chairman of Qlipso, said that the acquiring of Veoh by his company is a beneficial move as because this deal shall open up new fronts for the video sharing platform which will shape out new arenas for all digital content to bring out the very best out of it. It was also said that Qlipso plans to drop in a few subscription based services that will usher in revenues on behalf of Veoh which is said to gain grounds with online advertising. Reportedly, Veoh is a straight competitor to YouTube and reports have claimed that Veoh had about 28 million users using its services to post, upload and share videos. Veoh came up with a disclosure in the month of February which had the company filing reports for bankruptcy.
Dmitry Shapiro the founder member of Veoh founder went ahead to file bankruptcy on behalf of the company in accordance to the chapter 7 which states that the company shall pull down its gates on grounds of poor economy. However, with Qlipso acquiring Veoh, things are shaping up towards betterment- which is happy sign for Veoh.