Windows 7 Crack Foils Windows 7 Activation Technologies
By Jayita, Gaea News Network
Friday, December 11, 2009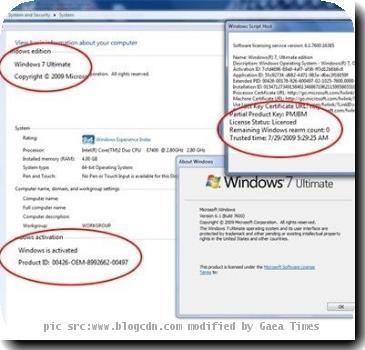 more images
Less than a month after the release, Windows 7 has been cracked by Chinese hackers. They have managed to crack the product activation system of the new Microsoft operating system.
Accordind to reports, the leaked product key comes from an Windows 7 Ultimate OEM DVD ISO from Lenovo. The activation process can also be circumvented on HP, Dell, and MSI computers running Windows 7 Ultimate OS (32-bit or 64-bit).
Meanwhile, Microsoft representative has asked the customers to use only the genuine software, alerting that the fake one may be malware affected.
How to crack?
There are two applications namely Dubbed RemoveWAT and Chew-WGA, that exploits several flaws of Windows 7. These applications allow user to overlook Windows Genuine Advantage(WGA) registration procedure. With these applications one can use Microsoft's newest operating system without having a license or legal copy of the version.
The ISO also allowed hackers to grab the OEM-SLP (System-Locked Preinstallation) product key as well as the OEM certificate for Windows 7 RTM Ultimate. The result is a permanently activated cracked copy of Windows 7 RTM Ultimate.
Reason behind the Crack
Fortify's European director, Richard Kirk cited a probable cause of Windows 7 being cracked. According to him, the millions of lines of program code that go into a modern operating system, makes it extremely difficult to ensure security.
The Steps Microsoft has taken to fix the Cracks
Each time crack is identified with their product, Microsoft has took initiatives to block them.
When crack appeared shortly after Windows Vista went on sale in January 2007, Microsoft solved it issuing an update.
Windows XP also faced similar problem when it appeared in the summer of 2005. It was recovered shortly by making the use of Windows Genuine Advantage system mandatory in July 205.
To fix Windows 7's crack Microsoft has brought a new solution- Windows Activation Technologies or WAT that replaces previously used WGA.
With each new solutions provided by Microsoft to block the crack, a no of advanced cracks applications are appearing.
Trojanized versions of RemoveWAT and Chew-WGA soon will be available on websites and file-sharing networks near you
,warned Tom Kelchner.
This is really threatening. Microsoft should take some serious steps to overcome this problem which may severely affect their business in future.