Bioshock Infinite Creates Sensation
By Arnab Ghosh, Gaea News Network
Friday, August 13, 2010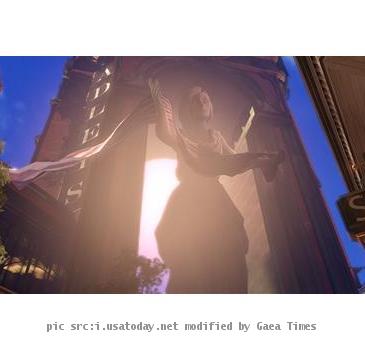 more images
SAN FRANCISCO (GaeaTimes.com)- The fans of the Bioshock franchisee have reasons to feel elated about. The Bioshock 2 failed to live up to the expectation of the gamers and from the first looks it seems that Bioshock Infinite is the proper sequel to the hit game of 2007. Irrational Games is going to release it. The backdrop of the game is set in the year 1912 and hence it comes closer to a prequel actually. The setting of the game is Columbia a floating city. The player has to find and rescue a lady named Elizabeth from captivity.
The player has to don the hat of a detective in the game Bioshock Infinite and he has to team up with Elizabeth, as per the storyline. There is strong focus on the narrative and the game also has a distinctive satirical political undertone. However the makers of the game still describes it as a FPS. The weapon system is interesting and a lot of scenes take place in the skyline. There is no boss monster as such but the game does offer large cyborg-like creatures that come very close to that concept. The game will be made available in 2012 but the official trailer is out now. Ken Levine the Irrational Games's creative director talked to the media on the game a few days back at New York.
Bioshock Infinite is made for the owners of PS3 and Xbox 360 as it has been reported. The trailer is now available in the web and it has created a sensation among the veteran gamers already.