iDevAffiliate: Review
By Partho, Gaea News Network
Wednesday, November 25, 2009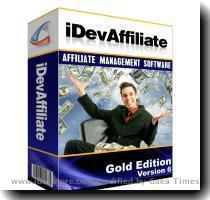 more images
We had iDevAffiliate as one of the best affiliate tracking software in our blog. iDevAffiliate is an affiliate software designed for . It is a affiliate management and tracking tool with comprehensive functionalities. The affiliate software holds an edge over most of the other software in the category for its smooth integration with website.  iDevAffiliate can be used with both UNIX and Windows servers. The software encloses a number of add-ons needed to run the affiliate program smoothly.   iDevAffiliate allows users to customize its payout tracking system, assign different payment methods and generate links. It can be integrated to MySQL database for easier data management. iDevAffiliate is best for merchants who want to run their own marketing campaign. We decided to delve into the features of the software.
Interface

iDevAffiliate has one of the most simple and intuitive interface among the low-cost affiliate software solutions. The affiliate tracking software doesn't offer an automated or clear interface. The software allows you to create several commission levels, customizing the commission alerts, used second tier commission and so on.
Easy to use
Apart from its several useful features iDevAdvantage offers the ability to tap into any specific feature, seek information or simply navigate. This can all be accomplished in a jiffy.  iDevAvantage allows the affiliates to generate more traffic in a short span of time. This aids in increasing the sales and ensure a higher level of search engine ranking.
Setup
The setup can be installed by any affiliate within a few minute. The company also offers professional set up services. The affiliates will only need to provide their password, user names and hostnames. The basic configuration can be implemented with the help of company's technical representative.
Integration capabilities
Most of the affiliate management system need to integrate some script or payment gateways like Paypal. iDevAffiliate is easy to be integrated and saves you time and money. iDevAffiliate features an Integration Cart Wizard that does the job automatically. This is a great help in case you are using a popular payment system.
Hosted software


There are hosted solutions that can manage your affiliate program on their website. iDevAffiliate offers full control of the affiliate program.
Payout options
iDevAffiliate offers a range of payout options for the users that include
Pay-Per-Click (for select visitors only), Pay-Per-Sale (flat rate or percentage) and Pay-Per-Lead. The flexibility of iDevAffiliate software permits affiliates the choice of payout option. They can create upto 100 payout levels corresponding to each payout option. They can add a feature to adjust payout levels and options for individual accounts.
List of features
iDevAffiliate has several features that are listed  below
Product Grouping - Affiliates can market individual products or all products
Send affiliates an email invoice at time of payment
View accounting history for each affiliate
Templates - For easy design modification
MySQL database integration
Automated installation program
Unique banner and text linking codes
Manage unlimited affiliates
Adjustable payout amount per affiliate (percentage)
Email your affiliates (all, approved, non-approved)
Approve new affiliate accounts
Administrative Center Optional Configuration
Manage all your sales, pay your affiliates
Affiliates can email market to friends
Post-sales auto return w/ page redirectio
Affiliates can view accounts in their 2nd Tier
Upload your banners and create your text ads
Inbuilt affiliate marketing
iDevAffiliate software also offers in-built affiliate marketing features. Among others it includes automatic generation of linking codes, limitless banners, text ads, full page html ads and text links. Automatic creation of email links and an affiliate control panel to email associates and friends.
SEO links
In case you use the third party affiliate program, the links in affiliate will point. iDevAffiliate features a SEO module(Platinum edition). It will make the links of your affiliate point to your website in a more search engine optimized way.
Advanced features
This is the most complete software in the market. You would have the options to create several commission levels, customize the commission alerts,
Pros
Creating marketing group
It can connect unlimited websites to one installation of iDevAffiliate through the use of Marketing Groups. Create a marketing group for each website and set each marketing group to have it's own defined incoming traffic page. To upload marketing materials. When affiliates login to get banners, links, etc., they will choose, which marketing group to get the banner, link, etc. from. Traffic they deliver will be routed according to the incoming traffic page defined for that marketing group.
Affordability
With iDevDirect you can make one time payments for three editions of iDevAffiliate. It makes the product affordable for start up online business. Updates patches and upgrades to the software are free for the first year. Further iDevAffiliate can also be hosted using different hosting companies. This would reduce the overhead cost of merchants for running their affiliate program. For a secure transactions and smooth operation of your affiliate program a dedicated server would be best.
Cons
iDevAffiliate doesn't provide marketing assistance to the users like the MyAP and affiliate networks such as CJ. The software you need iDevAffiliate is perfect. The affiliate programs who iDevAffiliate. The affiliate account manager and easy stats reporting.
Given the simplicity of the website you need to learn how to navigate the Admin control panel and how to configure all the different options and settings.
iDevAffiliate can work smoothly for those who implement one commission rate. However, it's gets complicated when you are looking to assign different commission rates to sales from different websites. It needs the user to manually adjust the php coding in the shopping carts.
Conclusion
On a whole iDevAffiliate is a standard affiliate tracking software with a wide range of affiliate programs. The software offers several advanced features and add-ons that can assist the merchants to manage their programs efficiently. However, it is the affordability that makes iDevAffiliate better as compared to other affiliate management tools available today.