Sony Vs Apple: Gadget War Begins
By Partho, Gaea News Network
Friday, March 5, 2010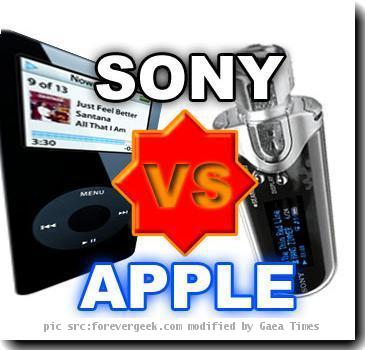 more images
Just a few weeks after Microsoft's announcement to introduce its indomitable gaming platform Xbox Live for Windows Phone 7 series, Sony is up with an idea for a Playstation smartphone. The Japanese electronics giants move is overtly influenced by the hoarding for producing sophisticated portable devices by major tech-companies, especially Apple. Sony will be developing a new line of handheld gadgets that includes smartphones with facilities to download and play video games on Sony's online media platform.  The new smartphone could be another smartphone in the line of iPhone- killers in the market, if not the ultimate.
Sony would further be planning to release a device that would include the best of netbook, an e-reader and a PlayStation Portable, or PSP. The project might give rise to a device that is capable of handling multiple functions such as Apple's upcoming iPad. Sony's interest in building a smartphone doesn't necessarily mean that its handset joint venture with Ericsson will be completely left out of the picture. According to the sources Sony Ericsson will be working on the new handset, and that company will be playing a more active role. This has to do with the  importance of smartphones with company's overall strategy.Sony's new products are expected to touch the markets by the end of this year. There speculations about price or device specifications remains a suspense.
In a recent commentary, Apple's CEO Steve Jobs made a statement that Apple is now a larger mobile devices company than Sony, Samsung and Nokia. In fact, according to the stats Sony Ericsson has had a bad patch recently. Moreover, it has seen global shipments drop 41 percent in 2009.
Sony would be releasing its new Sony Online Service (SOS) in U.S sometimes later in this month. The service will be designed to compete the iTunes, offering movies and TV shows and older game titles that were originally released for the PlayStation console.