Twitter will take its time before expanding newly introduced ads beyond its search results
By AP
Wednesday, April 14, 2010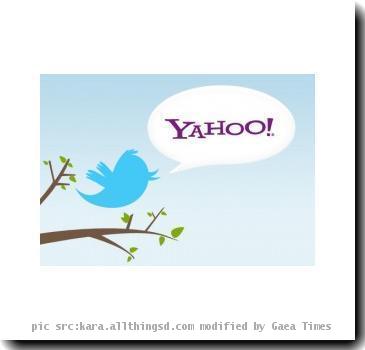 more images
Twitter in no hurry to show ads beyond search
SAN FRANCISCO — Twitter co-founder Biz Stone is confident people will love seeing interesting ads amid the rest of the chatter on his company's Internet communications service. But he and the rest of Twitter's management team aren't in any rush to prove it after waiting four years to usher in advertising.
The ads may be confined to Twitter.com's search results for several more months while the company evaluates what kinds of commercial messages seem to be working, Stone said during an interview Wednesday at Twitter's first major conference for software developers.
"We are not fretting over whether people are going to hate us" for deciding to show ads, Stone said. "Because we have taken such a thoughtful approach, we think people are going to embrace them and like them."
Dick Costolo, Twitter's chief operating officer, also declined to provide a precise timeline for distributing the ads more widely, but said the expansion would occur by the end of the year.
Twitter can afford to take its time testing the ads, dubbed "promoted tweets," because Stone said the privately held company is already collecting revenue from licensing deals reached with Google Inc., Microsoft Corp., and Yahoo Inc. during the last six months. Stone declined to discuss the terms of the deals, which have made it easier for Google, Microsoft and Yahoo to index Twitter posts in their own search engines. He said Twitter is "making money" from the contracts, but he didn't specify whether that means the company is earning a profit under the accounting rules governing publicly held companies.
The $155 million that Twitter has raised from venture capitalists and other investors provides the company with an additional cushion to pay its 175 employees and cover its other expenses. Twitter still has a big chunk of its investors' cash in the bank, Stone said, without providing specifics.
All of this means Twitter also isn't likely to sell its stock in an initial public offering this year.
"We don't have to knock it out of the park and start reporting earnings any time soon," Stone said.
When Twitter finally unveiled its plan to sell ads Tuesday, it came as a huge relief to the company's leaders after they had read and heard so much skepticism about their ability to capitalize on a service that has attracted tens of millions of new users in the past two years.
It was a little frustrating," Stone said. "So, it's fun to be able to say we finally have a plan."
Twitter CEO Evan Williams, also a company co-founder, echoed that sentiment in his opening remarks Wednesday. "We are out of chaos to some degree," he said. "It feels good."
The early stages of Twitter's business plan call for a small group of test advertisers to buy the right to have their commercial messages featured in search results when a request touches upon a topic tied to a product or service they're selling. The promoted tweets will be limited to 140 characters like all other posts on Twitter and will have to draw a reaction from the service's users or the ads will be quickly pulled.
The initial advertisers include Virgin America, Best Buy Co., Sony Pictures and Starbucks Corp., with others likely to be added fairly soon, Stone said.
Eventually, Twitter plans to serve up ads on outside applications that connect to Twitter's service. When that happens it, the ads will be exposed to a much larger audience because most of its traffic comes from mobile phones and third-party programs, such as TweetDeck, that are installed on computers for easier access.
The owners of those programs will get half the revenue generated from the promoted tweets shown through the programs, Costolo said.
The ads could reach a huge audience. Twitter announced Wednesday that it's processing about 600 million search requests each day worldwide, with all but a small fraction of the inquiries coming from outside applications.
The company, which is based in San Francisco, revealed Wednesday that it has more than 105 million registered accounts worldwide, which includes people who have more than one identity on the service. Twitter thinks it can reach at least 500 million registered accounts.
With about 300,000 new accounts opening each day, Twitter now distributes about 55 million tweets per day. That's up from about 50 million daily tweets just two months ago.
Filed under:
Google
,
Information Technology
,
Microsoft
,
Technology
,
Twitter
,
Yahoo
Tags:
California
,
Computing And Information Technology
,
Internet Technology
,
North America
,
Online Media
,
Products And Services
,
San Francisco
,
United States