Barenboim conducts 'Carmen' for La Scala gala season premiere
By Colleen Barry, AP
Monday, December 7, 2009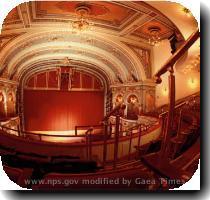 more images
Barenboim conducts 'Carmen' at La Scala
MILAN — La Scala opened its season with the gala premiere Monday evening of Bizet's "Carmen" conducted by Daniel Barenboim, the famed opera house's principal guest conductor.
The season premiere stars German tenor Jonas Kaufmann as Don Jose and 25-year-old Georgian mezzo-soprano Anita Rachvelishvili, just a year out of La Scala's academy, as Carmen. Kaufmann received cries of "Bravo" from La Scala's upper tiers for his second act solo, while the foyer buzz surrounding Rachvelishvili was warm after the first two acts.
One of the most highly anticipated cultural events of the season in Europe, the gala premiere is often attended by foreign dignitaries, captains of industry and cultural icons. Italian president Giorgio Napolitano was joined by Gabon President Ali Bongo and Senegalese President Abdoulaye Wade.
Author Dan Brown, who has used Italy as a backdrop for his novels "The Da Vinci Code" and "Angel and Demons" was in the audience. Asked if he was taking inspiration for future novels, Brown said: "It is quite possible. I'm mesmerized by this."
Among the details that caught his eye: "The architecture, the art, and of course you have an endless cast of characters that can be built on," Brown said during a break.
"This Carmen will be legend," Barenboim prophesied afterward.
Rachvelishvili was making her debut on La Scala's stage as the feisty, independent Carmen. Born in Tbilisi, Rachvelishvili has told Italian media that her musical preferences ran toward rock music, and that she had to be pushed toward classical.
But the applause for "Carmen" was punctuated by boos for the stage direction by Emma Dante, a 40-year-old theater director known in Italy for her experimental productions who was making her debut in the opera world. Before taking the job, the Sicilian-born Dante had never set foot in La Scala.
Dante's scenery was spare, but she filled the stage with dancing choruses and thought-provoking imagery. There also were strong allusions to Catholicism, including a swinging incense burner and a shattered crucifix. In the final scene, Don Jose rapes Carmen under the gaze of a clergyman in the background. The sequence is so explicit that it risked overshadowing the climax event, Carmen's murder at the hands of her former lover, Don Jose.
"She studied with a super fanaticism and great discipline, demonstrating she doesn't have just the voice and temperament, but also the seriousness," Barenboim told students at Milan's Catholic University last month.
He praised Kaufmann for his intelligence and linguistic ability.
"It will become a classic," said general manager Stephane Lissner. "After two or three performances, everyone will understand the importance of the work that was staged today with the direction of Emma Dante."
"Carmen" is being performed in French, according to the Bizet score. The production is being directed by Sicilian-born Emma Dante, known in Italy for her avant-garde stage productions.
Uruguayan baritone Erwin Schrott performs Escamillo and soprano Adriana Damato sings the role of Micaela.
Musicians have announced they will stand for a moment of silence before the performance in honor of those who have lost their jobs due to the world economic crisis.
"Carmen" was previewed Friday to an under-30 audience, which gave the production warm applause.
Kaufmann, however, was unable to sing in the preview due to a slight fever, leaving the role to understudy Riccardo Massi, who coincidentally is Rachvelishvili's boyfriend.