Audience shouts 'shame' as La Scala performers don street clothes in labor protest
By Colleen Barry, AP
Monday, January 11, 2010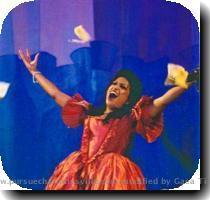 more images
La Scala performers protest working rules abroad
MILAN — La Scala performers and musicians wanted management's attention when they donned street clothes for the final December performance of "Carmen." They also got the attention of the audience, which shouted "Shame" in reaction.
Though the lead singers were in costume, some other performers and musicians dressed down for the show in a protest to pressure the revered Italian opera house to clarify the rules for their working abroad.
Players noted one rehearsal in Paris went six minutes overtime, while during a Tokyo dress rehearsal the conductor's wanted to repeat sections of the performance.
Audience members did not appear sympathetic on Dec. 23, however, and more vocal members shouted "Shame" at the stage, Italian media reported. "Carmen" had opened La Scala's 2009-10 season on Dec. 7, with rave reviews for the neophyte mezzo-soprano Anita Rachvelishvili in the title role, and played through December. It will be reprised next fall.
The players were meeting Monday to clarify their position before sitting down in talks with La Scala's general manager Stephane Lissner this week, union official Giancarlo Albori said.
La Scala spokesman Carlo Maria Cella said the issue might come down simply to compensation.
"It is clearly a question of some money," Cella said.
While in Italy, orchestral rehearsals can go 15 minutes overtime without complaint. But the musicians say the situation is not so clear when they're abroad, and more fatigued by travel, Cella said.
In the Tokyo incident, conductor Daniel Barenboim asked performers to redo sections in a dress rehearsal, when the entire performance should be running without interruption.
Barenboim requested a less formal type of rehearsal, but chorus members already dressed in their costumes complained that full-dress rehearsal rules applied, Cella said.
La Scala artists are as well known for their precise and often thrilling performances as they are for their feisty and confrontational labor tactics.
Strikes have been known to force the cancellation of individual performances — but never of a gala opening premiere, one of the highlights of the European cultural calendar attended by the cream of Milanese society, industry titans and heads of state.
Recent past disputes have focused on pay raises or the refusal of some workers to ratify a new contract.