Dell to sell Android phone in US on AT&T and plans to use gadget show for tablet concept
By AP
Wednesday, January 6, 2010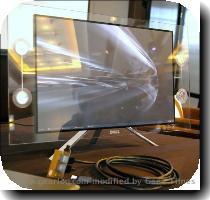 Dell to enter US smart phone market with AT&T
LAS VEGAS — Dell Inc. is wading into the U.S. mobile phone market this year with a device that uses AT&T Inc.'s wireless network and runs Google's Android software.
Dell, the world's third-largest computer maker, was announcing the deal on Wednesday before the official opening of the International Consumer Electronics Show in Las Vegas.
Dell has already built versions of the phone, known as the Mini 3, for wireless carriers in China and Brazil. The price and release date for the U.S. model have yet to be disclosed.
Dell also plans to use CES to show off devices that are bigger than a smart phone but smaller than the average netbook, including a tablet-style computer. None will be available immediately.
Filed under:
Dell
,
Google
,
Information Technology
,
Technology
,
Telecommunications
Tags:
2010 Consumer Electronics Show
,
Ces
,
Communication Technology
,
Consumer Electronics
,
Consumer Electronics Show
,
Events
,
Las Vegas
,
Mobile Communications
,
Nevada
,
North America
,
United States