Get ScreenSharingMenulet to Manage Multiple Mac's On the Network
By Shaon, Gaea News Network
Tuesday, November 2, 2010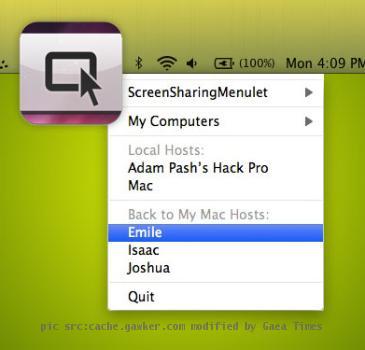 more images
Apple has a huge factor working over the windows which explains its recent surge as a operating platform. Its really just one word "Usability". The Mac OS X: ScreenSharingMenulet makes it ridiculously easy to access the ocal, remote, and Back to My Mac VNC servers. Well the usability factor figures in the fact that all this information is accessible from the OS X menu bar its customizable lightweight and makes the VNC heavily redundant.
In fact the software is easily recommended for loading up just as one turns on his new mac. This app allows easy access and a fair amount of customization. So if you have any specific IP address you can simply add it to your preferences. The premise of the app is so simple that its frankly quite brilliant.
Well its just about it does but hey if you really wanted the epitome of hardware and configurations you probably would not have had been on the mac on the first place. More over this is one of the closest we have come to a software that adheres so religiously to Apple's agenda of usability.