Google Voice App Hits iPhone Shores at last
By Shaon, Gaea News Network
Tuesday, November 16, 2010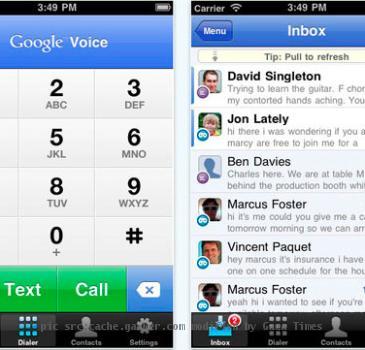 more images
Well even though it took all but 16 months coming the owners of iPhone have a reason to rejoice yet again. Google Voice now has a home in iPhone. And the pricing is good as well and the app going for $3.99.
The app may be downloaded from the iTunes app store as well. This awesome app will let users make and receive calls from a Google Voice Number. It will use the ip of the iPhones calling app to make voice calls. The calls would be made from Google Voice Number. Also users can send and receive text messages. An additional feature would be the access to his iPhone's address book, and read/listen to your voicemails. Well not bad considering that Apple tried to stifle the app and only an FCC investigation regarding Apple's alleged policy of stopping innovation.
More over Google's app was usable in the iPhone prior to this with its decision to take the HTML5 web app. Now due to this new development user's won't be sending the details of each number being dialed to the Google Servers. Since every phone has its own unique ip all calls would be made significantly faster.