Opera Mini For Apple Store
By Sayantika Ghosh, Gaea News Network
Tuesday, April 13, 2010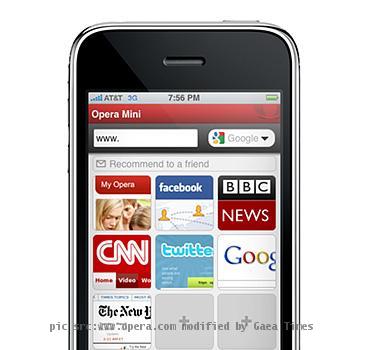 NEW YORK, (GaeaTimes.com)- Opera Mini, which happens to the most popular and sought after mobile browser, has been approved for Apple Application store and shall be available for download in a span of 24 hours. Reportedly, over 50 million users all across the globe use the browser Opera Mini. What makes Opera Mini a successful browser is its ability to compress data which makes the browsing a breezy and a pleasurable experience.
Opera Mini is capable of 90 percent compressing of all data pages which results in an enhanced way of loading web pages. Opera Mini claims that all mobile users with the browser installed on their device shall witness great browsing with superb speed. Opera Mini has taken special care to craft out the browser which seeks to offer a fast browsing experience even on 2G network.
Leaving a 3g network and WI-FI turned off; opera mini pulls up web pages much faster than any other browser. It also allows tabbed browsing in the very same manner as one does in his computer. One can open up a new link in a new tab on opera mini without any hassle. Opera CEO Lars Boilesen told in a press meet that opera mini has been crafted to synchronize with ease on major Apple devices like IPod Touch and I phone. Reportedly, Opera had went ahead to submit opera mini as a prescribed browser for the Apple devices way back in March 2010. Since then Apple has been reviewing it until they finally went ahead to approve it for all its users. The first time demo of Opera Mini demonstrated the browser having an upper hand to other prominent mobile browsers like Safari, which is preloaded in Apple devices.