Performance Monitoring of Cloud based Applications
By Partho, Gaea News Network
Monday, January 25, 2010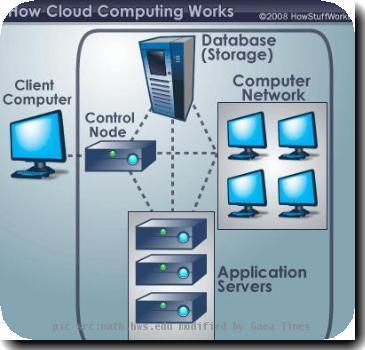 more images
There are several issues to monitor and manage when running business application to feel comfortable with that application in the cloud. One of the outstanding issue is knowing the performance that the cloud hosted application is providing to its users. It is crucial to have an insight of the reason why degradations in performance. There are reciprocal notions on the measuring the performance of cloud applications. We need to know how does cloud computing affect application performance and management, conversely, you need to know how cloud environments affect end users. The resource utilization is not valid measure of applications performance in virtualized and cloud based environments. This makes it necessary to focus on the needs to shift to response time as the primary metric of applications performance. However, trying to measure the performance of the various pieces of infrastructure employed in a business service requires looking across a time.
Challenges of Performance monitoring
Cloud computing is completely based on virtualization. All the hassles in monitoring the performance of virtualized applications apply to cloud based applications. The main concern is the capacity in the virtualized environments to be shared and dynamic. The application is not using too much CPU and inferring bad performance.
The difference between the application and the infrastructure is clearly defined in a cloud environment. If you put the application up on Amazon EC2, you cannot ask Amazon for infrastructure monitoring that you have in place for that application in your data center. The performance monitoring you employ for most part, must be installed as a part of your application.
Plan for the case where parts of an application live in a cloud, parts in a second cloud and parts in your internal data center. All these parts should be interconnected through public internet available as the communication mechanism.
It is this requirement that breaks most data center hosted monitoring solutions. In such monitoring solutions it is assumed that the monitoring product and the entire application system are placed in the same subnet and inside of the corporate firewalls. It important to consider that the traditional monitoring solutions lack the mechanism to support data collection agents that live outside of firewalls, and that communicate back over the public internet.
Tips for better cloud application monitoring
Here are some changes expected in the new cloud monitoring architecture
Cloud hosted applications require monitoring solutions that are architectured with new fundamentals.
Monitoring agent must travel with the application.
Monitoring agent should be easily installable as a part of installing the application on the cloud infrastructure.
Communications should be one way from monitoring agent back to the analysis and reporting servers. The communication should be initiated by the monitoring agent and over public internet friendly ports and protocols.
It would be more feasible, if the monitoring solution be hosted by the monitoring vendor. This could make provisioning monitoring into something that is as simple and fast as provisioning the application itself in the cloud.