Top 10 Mobile Apps for Good Health
By Dipankar Das, Gaea News Network
Sunday, November 7, 2010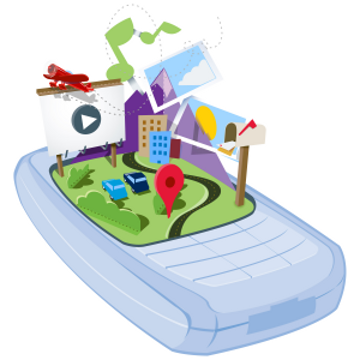 The Health, Wellness, and Fitness section in the various mobile app stores carry applications that help you stay healthy.  Some of them are backed by major pharmaceutical firms, while others are the brainwork of the individual.  Information Week listed many mobile apps that you can use to monitor your health condition. I selected ten of them according to my choice.
Pocket First Aid & CPR:  This apps comes with instruction video and provides information how to treat with medical emergencies. The app comes with 12 quick reference guides that gives you very useful information on  child and infant CPR and choking treatment. The cost of this iPhone app is $3.99.
Pure Sleep Premium: This app is good for business traveler who do not get enough sleep. It includes ambient electronica, three noise tracks (as in white noise, not as in noise pop), and rain and waves soundtracks.The other interesting feature is sleep and deep sleep programs with the option of napping. The cost of this app is only $1.99.
MyFitness Pal: One of the important aspect of fitness is to keep track of the intake calorie. You just enter the name of the food with this free iphone app, it will give you information about not only calories but the fat, protein, sodium etc. You can also sync the app with myfitness.pal account.
First Aid: This free Android app gives you quick idea about how to get into first aid information and warns you against wrong information. For example. you start with the effects of Heat and Cold, then select from burn, heatstroke, frostbite, sunburn etc. If you click on the option, you will get a general guideline and instruction about how to treat a patient.
iManageMigraine:  Pharmaceutical giant Merck provides this  free iPhone app which is supposed to help migraine sufferers. They can  keep track of when and where their headaches occur, how severe they are, and if any treatment worked. The data can help patients find the triggers point of the attack  and provides an idea for further treatment plans and options with their doctors. The app also includes general information about migraines.
Emergency Dial: You may have Emergency phone number when you are at home. But, what is going to happen when you travel. This  Android apps uses GPS to figure out where you are and allows you to dial for the local emergency services. It has a database for contact information services for more than 130 countries. The price is only 99 cent.
Baby Bump: This app helps you in case of pregnancy. It provides week-by-week info on fetal development, plus a journal and various tools to keep track of what's going on. It also sends you the latest developments and updates through Twitter and Facebook.
Family Drug guide: This app provides you information  about indications, side effects, and so on for both prescription and over-the-counter drugs. you can also bookmark the drug that you and your family are taking. This app is applicable with iphone, Blackberry and Android system and it costs $4.99.
Period Calendar Deluxe: You will not only be able to keep track of the particular day of the month with this app, it also helps you in pregnancy planning.  It shows the the projected period date as well as probable fertile dates. You can also make a note at your calendar whether it has anything to do with your cycle. The price of this Blackberry app is $3.99.
AsthmaPulse:  With this app, you will be able to track symptoms, triggers, medication schedule and effectiveness, and Peak Flow Number for Asthma related problem. The app will display an overview in graph form in terms of the time of severe attack. You can also sync it with Google Health to share with your doc. This iPhone app costs $4.99.
Filed under:
Apple
,
Featured Article
,
Features
,
Mobile Phone
,
Web
,
iPhone
Tags:
Android
,
Blackberry
,
Health and Fitness
,
iPhone
,
mobile app
,
Travel