Apple TV: Apple Plans to Launch Low-Cost Web TV Service with 25 Channels in September
By pratima, Gaea News Network
Wednesday, March 18, 2015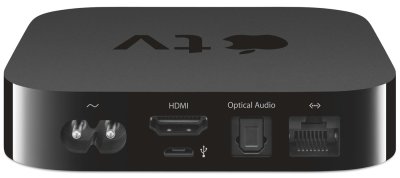 Apple Inc. plans to build an online television service are coming into sharper focus. Shares in Apple rose by more than 1 per cent yesterday after reports that the iPhone maker was preparing to do battle with the big US cable companies by introducing a cheap online TV service ( Apple Internet TV Service ).
The California-based group is in talks with programmers to offer a slimmed-down bundle of TV networks this fall, citing people familiar with the matter.
The service would have about 25 channels, anchored by broadcasters such as ABC, CBS and Fox, and be available across all devices powered by Apple's iOS operating system, including iPhones, iPads and Apple TV set-top boxes, the newspaper said.
Apple has been talking to Walt Disney Co, CBS Corp, and Twenty-First Century Fox Inc and other media companies to offer a "skinny" bundle with well-known channels like CBS, ESPN and FX, leaving out the many smaller networks in the standard cable TV package, the Journal said.
One major entertainment company not involved in the latest round of discussions is Comcast and its NBCUniversal entertainment group, the people said. If Apple and Comcast do not come to terms on a deal, the new service will not include the broadcaster NBC or the cable networks it owns, such as Bravo and Syfy.
Comcast could be forced to come to a deal with Apple because of the conditions that it agreed to with regulators when it acquired NBCUniversal in 2011. Under those agreements, an online video provider like Apple could demand that NBCUniversal make its programming available if Apple has signed deals with other television groups.
Apple has been rumored to be planning an online TV service for more than five years. Apple co-founder Steve Jobs had grand ambitions to change the way people use TVs, and a new email correspondence between him and top executives a year before his death shows just how far that vision might have gone. In a 2010 email that goes over the topics for the top 100 - a secret meeting Apple has each year with its top employees to discuss strategy for the coming year - there's mention of "Apple TV 2".
"Where do we go from here?"
"Where do we go from here?" says one of the bullet points, followed by "apps, browser" and "magic wand?" as possible options. However, those suggestions could be just be riffing. In testimony in a San Jose court earlier today, marketing chief Phil Schiller noted that items from this email were just an outline, and not necessarily set in stone for the confab. That includes mention of 2011 being the "holy war with Google." In this case, the Apple TV 2 presentation is described as an opportunity to discuss the company's plans to "stay in the living room game and make a great 'must have' accessory for iOS devices."

Steve Job's emails reveal his plans for Apple TV
At an expected cost of $30 to $40 a month, the service would challenge cable companies, which often charge more than $100 for big bundles of channels.
Apple will heavily market its new Limited, Low-Cost streaming service, which the company has pitched to networks as "better than the best-of-class cable products," one person said. Potential features would include on-demand functionality and the ability to stream live and on-demand television to an array of devices, another person said.
The service is expected to be launched in September.
The Wall Street Journal reported news of the Apple TV service on Monday, after an initial report in Recode last month.
Apple declined to comment on the potential new service.
A flood of media, telecom and tech companies are introducing digital TV services this year, trying to appeal to a generation of viewers willing to pay for Internet access but not traditional TV cable subscriptions.
Offering a slimmer bundle of television channels over an Internet connection would help Apple distinguish its service from a traditional cable subscription. However, it would not be nearly as disruptive as the deals that Apple cut with record labels for the iTunes Store, when it negotiated to sell songs one track at a time, as opposed to forcing consumers to buy complete albums.