Google Providing Tech Support For Parents
By Shaon, Gaea News Network
Monday, December 13, 2010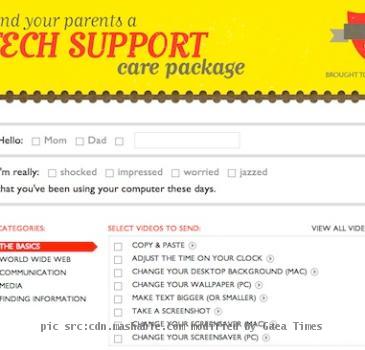 more images
For all the people who are frustrated with teaching computer to your folks at home, Google has come up with a novel solution. With their motto of keeping Tech Support a home Business a few of the people who work there has come up with a site that will teach the not so technologically empowered folks how to do the basic day to day jobs properly.
So after the Tech people from Google faced the same issue back home they decided to launch a brand new portal named TeachParentsTech.org as only Google can. The care passage has Google's trade mark wry humor has almost 50 basic How to videos. The site is designed for the parents as the name suggest but also for any other people who are being challenged by the rigors of the day to day tasks on the net. The site primarily sends the tutorials as email to the address provided by the use.
First 10000 people to send the package had the benifit of sending some real hard tech packages to recipients at no cost. The packages were going to be sent by snail mail.